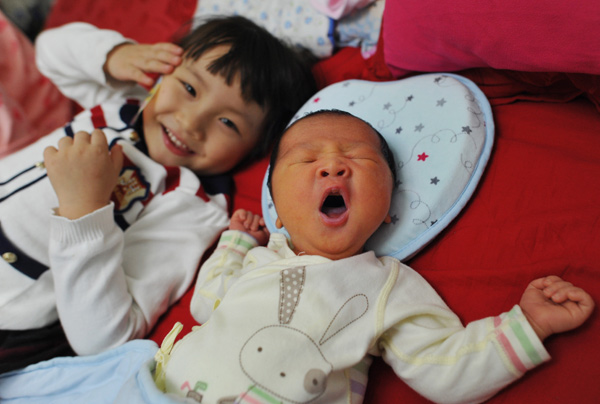 A girl plays with her newborn brother at a hospital in Nanjing, Jiangsu province,on Oct 24. 2014. [Photo/CFP]
Family planning officials in Shanghai have called on the city's residents to have more babies as an unexpectedly small percentage of couples have sought permission for a second child despite the relaxation of China's one-child policy.
Fan Hua, of Shanghai's Municipal Commission of Health and Family Planning said 90 percent of the city's women of child-bearing age are allowed to have a second baby, but only 5 percent have submitted applications, the Qianjiang Evening News reported on Tuesday.
The official said the high cost of raising children and women's fear of an abrupt halt to their career development are the major reasons behind the unusually small number of applications.
China amended its one-child policy in December 2013, allowing couples to have a second baby if either parent is an only child.
The China Youth Daily published an online survey among 2,052 people late last year showing that only 24.9 percent of qualified couples have submitted applications.
"Economic cost," "time cost" and "one child is enough" were the leading reasons for not having a second child, the survey said.
In many other cities couples qualified to have a second child are also far fewer than expected.
According to the Beijing Municipal Commission of Health and Family Planning, since the capital relaxed its policy, around 30,000 couples have submitted applications for a second child, while the city had expected an extra 50,000 annually.
Experts said it is possible China could further relax the one-child policy if the country's fertility rate remains unchanged in the next few years.
Another survey, by the Guangzhou-based Sharpen Research Institute, revealed that more than 90 percent of respondents in Guangdong support a complete suspension of the one-child policy.
National Health and Family Planning Commission officials said in November that China currently has no plans to suspend or further relax its one-child policy.