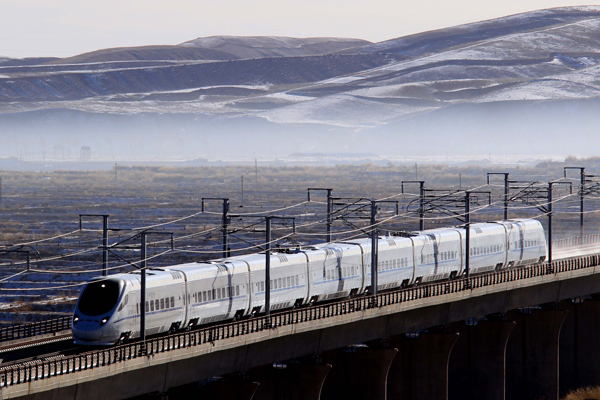 A bullet train makes a trial trip in December from Xining to Lanzhou in Northwest China. The Lanxin high-speed railway links Urumqi, in the Xinjiang Uygur autonomous region, with Xining, Qinghai province, and Lanzhou, Gansu province. It slashes the travel time from more than 23 hours to just under 12. Cai Zengle / Xinhua
Local governments have been pushing high-speed railway planners to build stations in their jurisdictions.
During the annual session of the people's congress of the Xinjiang Uygur autonomous region, which concluded over the weekend, several deputies suggested that China Railway Corp, operator of the nation's rail network, set up at least one station in the Dabancheng district of Urumqi, the regional capital, as part of the plan linking the city to Turpan, local media reported.
The absence of a station in the district has long inconvenienced local residents and hinders economic development, lawmakers said.
In Xinye, Henan province, a rally in September that attracted more than 10,000 residents asked the central government to put a station in the county along the planned high-speed line connecting the capital, Zhengzhou, with Chongqing.
However, the call was turned down by China Railway Corp.
Aspirations for a high-speed rail station made allies of Zhuzhou and Xiangtan in Hunan province. They stood together to lobby the railway operator to reserve a station along the Changsha-Xiamen line for each of the cities. The cities competed fiercely for a station on the Wuhan-Guangzhou line.
Cai Qinghua, former chairman of Beijing-Shanghai High-Speed Railway Corp, recalled that some cities along the line even promised to build a station at their own cost, and the company satisfied some local governments' demands by creating stations that were not in the original plan.
Whether a city should have a high-speed rail station is decided by the National Development and Reform Commission, the top economic planner, which works with China Railway Corp to make evaluations, said Zhao Jian, a professor at Beijing Jiaotong University who specializes in China's railway system.
"Technically, a bullet train running at an average speed of 300 km/h needs at least 26 km to perform a normal cycle from start to stop, so I think each station should be separated by a minimal distance of 50 km," he said.
"Many local authorities are fanatical about high-speed railways and believe that a station would definitely bring opportunities and wealth. But if they don't have enough attractions to lure visitors, a station would be a waste of money," Zhao said.
Sun Jiuwen, director of the institute of regional and urban economics at Renmin University of China, said the central government can use the new high-speed rail stations to boost the formation of city clusters.
"A rail station can help garner resources and facilitate urban development. So if Beijing wants to form a new metropolitan conglomerate based on small cities, it can set up a station for them," he said. "However, the location must be determined with comprehensive calculation, deliberation and prudence to ensure that each city benefits from it."