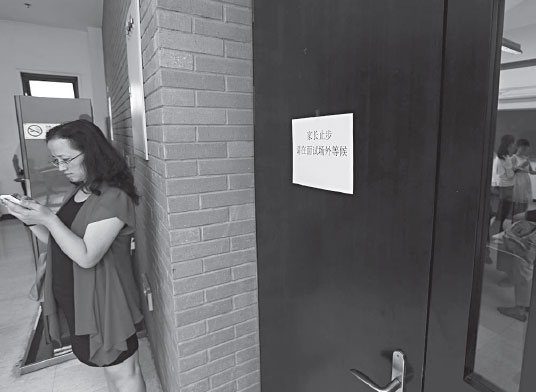 A parent waits outside a room at Peking University, where the University of Hong Kong interviewed mainland students in June for undergraduate admission. Lin Hui / for China Daily
Protests unlikely to affect university admissions as thousands continue to apply for places
Although the "Occupy Central" campaign seriously affected daily life in Hong Kong for more than two months, it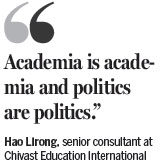 has not dampened mainland students' enthusiasm to study in Hong Kong universities.
Xu Zijian, a college senior from Guangzhou, Guangdong province, is anxiously waiting for offers from Hong Kong universities.
The 22-year-old has applied to master's degree programs and hopes to start in September.
"Compared with master's programs on the mainland, Hong Kong's are more cost effective, and they take only one to one and a half years to complete. I can get out of school and join the workforce sooner," Xu said, adding that the study experience in Hong Kong may lead to more job opportunities, in both Hong Kong and on the mainland.
Xu is one of thousands of mainland students who have set their sights on Hong Kong universities.
In 2004, then education minister Zhou Ji and Arthur Li, then secretary of the Hong Kong Education and Manpower Bureau, signed an agreement that the mainland and the special administrative region would recognize each other's higher education degrees. Since then, the number of mainland students going to Hong Kong has increased dramatically.
Since China regained sovereignty over Hong Kong nearly two decades ago, tourism, commerce and educational exchanges have grown exponentially.
An increasing number of mainland residents, including tourists and students, have flocked to Hong Kong to benefit from its resources.