KEY WEST, Fla.  - The US Navy's newest destroyer, the 509-foot USS Spruance, was commissioned at a sunset ceremony Saturday in this island city whose naval history dates back to the 1820s.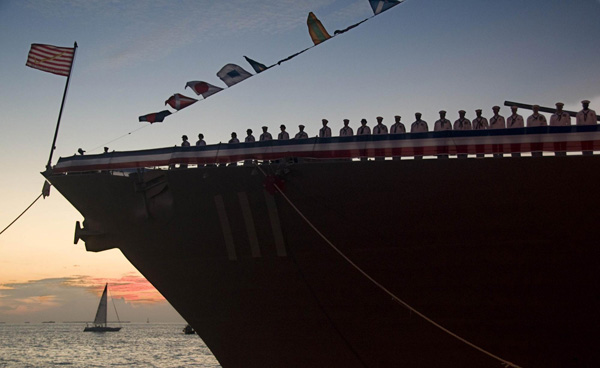 Crew members of the newest US Navy destroyer, the 509-foot USS Spruance, man their ship during a sunset commissioning ceremony in Key West, Florida Oct 1, 2011. Despite the island being a base for naval operations since the 1820s, it's the first time a Navy vessel is being commissioned on the subtropical island. [Photo / Agencies] 
The command to man the ship, sending members of the 285-person crew hurrying up two gangways, was spoken at sunset by Ellen Spruance Holscher, granddaughter of the late Adm. Raymond Spruance, the ship's namesake.
Adm. Spruance commanded US naval forces during two of the most significant naval battles of World War II, the Battle of Midway and the Battle of the Philippine Sea. Midway was the first major victory for the United States against Japan and is seen by many historians as the turning point of the Pacific war.
The 9,200-ton Spruance, which cost $1.2 billion to build, is an Arleigh Burke-class Aegis guided missile destroyer. It features offensive and defensive weaponry including Tomahawk cruise missiles and a 5-inch gun, as well as sonar and two helicopters. It is capable of speeds in excess of 30 knots and can fight simultaneous air, surface and subsurface battles.
The ceremony featured a flyover by a Naval Air Station Key West fighter jet squadron, the raising of the ship's colors, and addresses by Vice Chief of Naval Operations Adm. Mark E. Ferguson and the Spruance's new commanding officer, Cmdr. Tate Westbrook.
"The promise from any navy leadership in this meritocracy is that any sailor, regardless of background, race, gender or sexual preference, has the opportunity to go as far as they can in this great navy," Westbrook said.
About 3,400 spectators witnessed the first navy vessel commissioning ceremony ever to take place in Key West, despite the island being a base for naval operations for almost two centuries.
The battleship Maine sailed from Key West prior to her 1898 sinking in Havana, leading to the Spanish-American War. In 1917, Navy seaplane and blimp activity began at Naval Air Station Key West. The facility expanded to nearby Boca Chica Key in 1943 and today remains a strategic air base.
"We have such a proud history and tradition with the US Navy down here all the way back to the Civil War," said Key West Mayor Craig Cates. "To have the navy commission a new warship in our city makes us so very proud."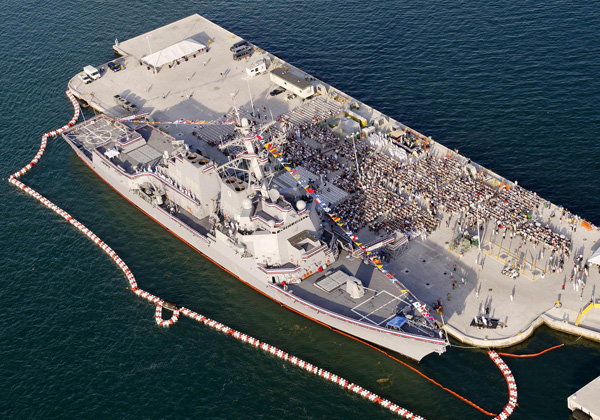 Attendees of a commissioning ceremony for the newest US Navy destroyer, the 509-foot USS Spruance, await the start of the event in Key West, Florida Oct 1, 2011.  [Photo / Agencies]