A voice from the recent past
Updated: 2011-10-02 08:51
By Wu Yong and Liu Ce (China Daily)
| | | | | | | | | | | |
| --- | --- | --- | --- | --- | --- | --- | --- | --- | --- | --- |
|   | | Comments() | | Print | | Mail | | Large Medium  Small | 分享按钮 | 0 |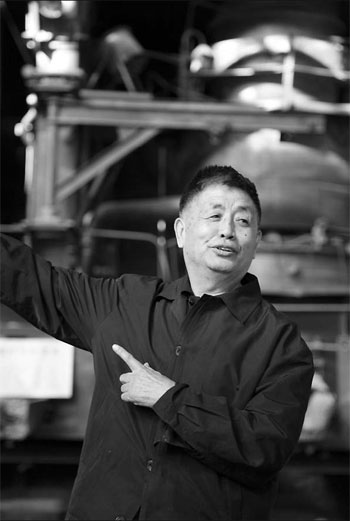 Li Xidong introduces China Daily reporters to the museum in Shenyang. [Photo / China Daily] 
SHENYANG - Bubbling with excitement, 74-year-old Li Xidong is desperate to introduce China Daily to the details of Shenyang Foundry Museum as soon as we enter the building.
"Every time I come here I can't help being thrilled you know, this is where I worked for 40 years," he says while demonstrating how to operate an old machine. The Shenyang Foundry Factory, the largest of its kind in Asia in the 1950s, was transformed into a museum in the capital of Liaoning province in 2007.
As a worker in the foundry, Li experienced the different stages of the country's industrialization. In the 1950s, when the First Five-Year-Plan (1953-1957) was introduced, Liaoning, the birthplace of China's heavy industry, entered the golden era of development, and Shenyang's Tiexi district played host to many top-ranking factories in Asia and employed thousands of skilled workers, Li being one of them.
In 1958, Li joined Shenyang Foundry Factory as a trainee after graduating from a technical secondary school. "At that time, being a worker was a matter of glory for the whole family," Li says.
Under the tutelage of Zhang Chengzhe, Li soon became an experienced fitter. His excellent skills and outstanding performance got him selected from among 4,000 foundry workers for further studies in the machinery manufacturing school (known as Shenyang University of Technology today).
Two years later, Li was promoted to be an engineer, and began his studies with a team to innovate technical methods to reduce energy costs and increase productivity. "We usually started work at 8 am, but I reached the factory at 6 or 7 and I was the last one to leave."
Usually, traditional foundries were full of ash and dust and Li looked like a clay figure when he used to come out of the factory. "He was devoted to his work, and got home very late with ash even in his nostrils. He was always too tired to care about home affairs," says Zhao Fengrong, Li's wife.
The couple had two sons and a daughter, all of whom were taken care of by Zhao, a primary school teacher. "I didn't have time to take care of them. Work came first because I had to pay back the trust my fellow workers had placed in me," Li says with a smile.
Driven by such a spirit, Li usually worked with frontline workers to know about the difficulties and limitations in every operational process so that he could find ways to simplify them, ensure workers' safety, save raw materials and improve efficiency.
"Originally, workers had to work close to the machines, and thus were susceptible to suffering burns from molten iron. We added a device so that the workers could operate the machines from a safe distance," Li says, pointing to a molten iron port exhibited in the museum to explain the dangers.
Li stops in front of a casting kiln , and says: "This could save about 30 percent of fuel by controlling and adjusting the wind direction plate to maintain the "same temperature."
Sun Jingfeng, head of Shenyang Foundry Museum, says: "Don't underestimate these technological marvels, because they were big innovations cutting costs and increasing productivity at that time. They needed years of painstaking work and proficient skills to be made."
Such technological innovations earned Li a lot of rewards. "The best award was cloth, which I got several times. A piece of cloth was precious and worth dozens of yuan, a lot of money then."
Li's son says: "My father often brought home awards. We were and still are proud of him. He is our model."
The local government, too, recognized his hard work, and in 1979, selected Li, then 42, as the provincial model worker. "What I did was my duty. I didn't expect to earn such an honor," he says.
In the 1980s, Liaoning sent a great number of talented people to South China. And as an advanced engineer, Li delivered many lectures on technology across the country. "Sometimes, I didn't return home for more than two weeks during such tours," Li says.
Li also offered technical guidance to Albanian technicians when a delegation from the Balkan country visited the Shenyang Foundry Factory on a technical exchange tour. "I was extremely proud of my motherland for its greatness," Li says.
Li's craft has been developed and carried forward. His eldest son is an electrician, and his eldest grandson, who graduated in July, works on electrical automation.
"The new generation excels the old. The old machines have been phased out. I've been to the new factory, which is quite different from the one we worked in. What we thought was impossible before is today a reality," Li says while caressing a couple of machines he used to operate but which have become museum pieces today.
For Li and his family, July 3, 2011, is the most memorable day of their lives, because it's the day Premier Wen Jiabao visited Li's home. "I didn't expect to be remembered 13 years after retirement. Premier Wen was so amiable that I felt warm," Li says as he shows a photograph with Wen.
"Now it is our time to enjoy life." According to 72-year-old Zhao Fengrong, they are planning to travel to Taiwan this winter. "We have nothing to worry about, and our life today is more comfortable."