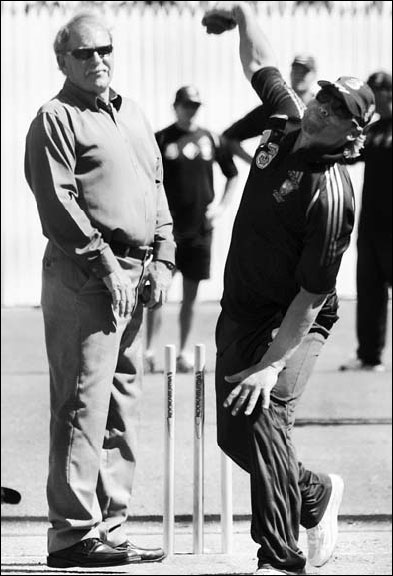 Australia's Shane Warne is watched by bowling instructor Terry Jenner during a training session in Adelaide in this Nov 30, 2006, file photo. Jenner, who mentored spin-bowling great Warne, died at the age of 66 last Wednesday. Jenner, who took 24 wickets in nine Tests for Australia in the early 1970s, died at home in Adelaide just over a year after suffering a massive heart attack. David Gray / Reuters
Shane Warne could not replicate the fairytale success of 2008 in his final season with the Rajasthan Royals but the flamboyant Australian walked away from the Indian Premier League (IPL) last week with his aura as a brilliant leader firmly intact.
Three years ago, the burly 41-year-old tweaker galvanised the least expensive of the original eight franchises to an inaugural IPL victory, vindicating those who maintained Warne was the best captain Australia never had on a long-term basis.
As captain of the national side, Warne won 10 of the 11 one-day internationals he oversaw but was never given the chance of an extended tenure at the helm, something many attribute to his off-field indiscretions, including a failed drug test in 2003.
However, his IPL teammates had nothing but positive things to say about the Australian widely credited with reviving leg-spin and some even attribute their success to the man who retired from Test cricket with 708 wickets.
"I'm going to miss him definitely. I guess whoever played under him would miss him," Rajasthan paceman Pankaj Singh told Reuters.
The words of praise are even more remarkable considering the 26-year-old could have been justified in feeling slightly aggrieved after Warne fielded him in just one match in this year's IPL, where Rajasthan finished sixth.
"Life is not easy if you have to sit out but he made sure we remain motivated. He would come and discuss team strategy and tell us the reason why we were being left out. He would encourage us to keep practising hard."
Warne's brand of captaincy, however, was much more than just that of a motivational speaker.
His own first-class career spanning two decades may not have been spotless but Warne the captain had novel ways to maintain dressing room discipline.
"It started in 2009 when he came up with this idea of making anyone who broke his rules carry a pink doll for 24 hours," said Pankaj, who played his only one-day international last year but is eyeing an India recall.
"On some days, more than one player would be nominated for the pink doll. I was a couple of times but fortunately never had to actually carry the doll."
Winners party
Teammate Taruwar Kohli provided further insight into Warne's leadership.
"Warne told us that 'winners party, losers sit at meetings'. When we won, we partied a lot. When we lost, we would discuss what went wrong, and then party again," he told the Indian Express newspaper.
On another occasion in 2008, Warne took the wallets of five cricketers, dropped them from the bus and made them walk back to the team hotel as a punishment for missing a session.
"Our bonding was the key to our success and Rajasthan owed it mostly to Warne," Pankaj added.
"He treated everyone with equal importance. He was relaxed and made sure everyone else was. He would not differentiate between a local rookie and an overseas player. He arranged activities off the field which helped as well."
Warne's teammates maintain language was never a barrier and the Australian had a moniker for most of his players which would endear him to all.
"Like in the first edition of the IPL, he had nicknames for the players and he formed groups of three each with a leader for every activity of the team," said spinner Ashok Menaria, whom Warne nicknamed 'Doxy'.
"He was afraid of catching malaria and when we first met, he jokingly asked if my surname was Menaria or Malaria?
"When Shane came here, he brought a lot of malaria medicines, mostly Doxycycline. So, I was named 'Doxy' after the drug."
Pankaj summed up the lasting impression Warne left on his teammates.
"He is a genius. He was a smart captain who was spot on with his assessment of players. He knew how to motivate players and that made him a special leader. He knew how to get the best out of every player."
Reuters
(China Daily 06/04/2011 page11)