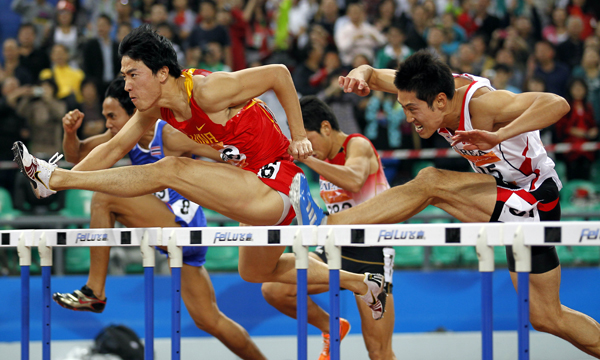 China's Liu Xiang (front L) competes during the men's 110m hurdles final of athletics at the 16th Asian Games in Guangzhou, South China's Guangdong province, Nov 24, 2010. Liu claimed the title of the event with 13.09 seconds.[Photo/Xinhua] 
GUANGZHOU - Chinese star hurdler Liu Xiang claimed the men's 110m hurdles gold medal at the Guangzhou Asiad here on Thursday.
The 27-year-old former Olympic and world champion dominated the race to win his third Asian Games title in a row with a season best 13.09 seconds.
His teammate Shi Dongpeng took second in 13.38, also his season best, while the bronze went to Park Taekyong of South Korea at 13.48.
"I am very happy to win the Asian Games title the third time," said Liu. "I didn't expect I could race in 13.09."
"I was quite relaxed in the final, and the fans encouraged me a lot," he added.
Liu limped off the field of the national stadium Bird's Nest in the Beijing Olympic Games even before he started running in the first heat to defend his glory last year, leaving millions of Chinese fans dumbfounded with the blow.
He was later treated in the United States, accepting surgery on his right Achilles' tendon.
The result was his best since he made a comeback in Septemper, 2009 after the surgery.