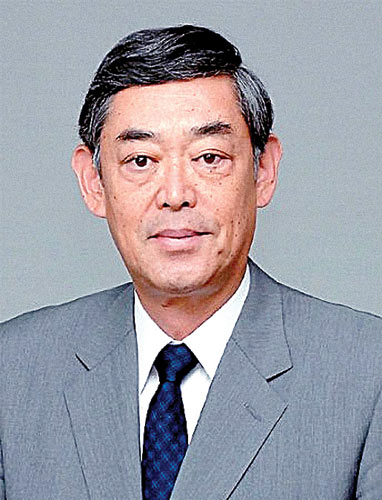 Yutaka Yokoi
Japan appointed a diplomat with a specialized background in Chinese affairs as its new ambassador to China on Friday.
Yutaka Yokoi, the former ambassador to Turkey, is one of Japan's "China-school" diplomats who underwent language training in China with a specific focus on the relationship with China.
Japanese Foreign Minister Fumio Kishida called Yokoi an expert on Chinese affairs and described the appointment as the "right man in the right place".
He becomes the first ambassador to China from the "China school" since 2010. Yuji Miyamoto, who served in the top post in Beijing from 2006 to 2010, was Japan's last such ambassador.
Since then, diplomats with different backgrounds have been appointed to the post. Masato Kitera, whom Yokoi will replace, is a French specialist. Uichiro Niwa, a former adviser to Itochu Corp, became ambassador to China in 2010 when the Democratic Party of Japan was the ruling party.
Yokoi joined Japan's Foreign Ministry in 1979 and has held a number of posts, including director of the China and Mongolia Division, chief minister at the Japanese embassy in Beijing and ministry spokesman before becoming ambassador to Turkey in 2013. He also was consul general in Shanghai.
According to ifeng.com, Hong Kong-based Phoenix Television's website, Yokoi likes Peking Opera, Kunqu Opera and the traditional Chinese comic performance known as crosstalk. His favorite crosstalk performer is Guo Degang, a well-known comedian who runs the De Yun She comedy club.
Japan's Nikkei Shimbun newspaper said Yokoi's appointment is aimed at sharpening Japan's analysis of Chinese affairs.
China and Japan will observe the 45th anniversary of the normalization of diplomatic relations next year. By sending a "China school" ambassador to Beijing, Japan is driving home the message that it is working to improve ties with China, Nikkei Shimbun said.
Xu Dunxin, former vice-foreign minister and former Chinese ambassador to Japan, said Yokoi is an experienced diplomat who knows China well.
"I worked with him before, and I hope that by appointing a 'China hand' as the new ambassador, it can help to improve the bilateral relationship and strengthen understanding between the people," Xu said.
However, Xu added, "the problems between China and Japan cannot be solved by just an appointment, no matter who he is. It depends on Japan's foreign policy on China, and Japan should make concrete efforts to improve its ties with Beijing."
Wang Xu in Beijing contributed to this story.