China-Russia relations are unshakable, Xi says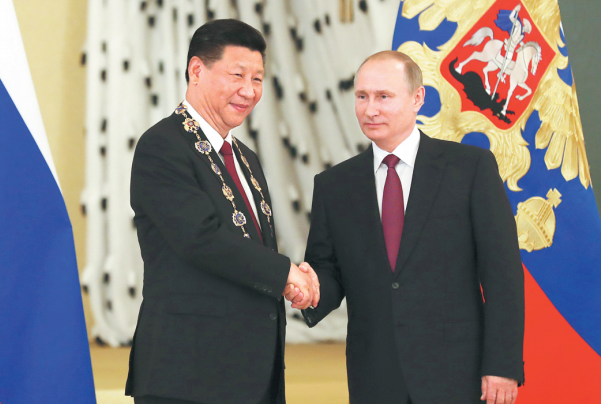 President Xi Jinping receives the Order of St. Andrew the Apostle from Russian President Vladimir Putin on Tuesday. Photo/Agencies
President receives high honor for friendship in meeting with Putin
Beijing's special relationship with Moscow will continue to develop no matter what happens in the rest of the world, President Xi Jinping said on Tuesday during his sixth trip to Russia as China's top leader.
The two countries are dedicated to boosting mutual political trust, connecting the Belt and Road with the Eurasian Economic Union and coordinating closely in global affairs, Xi said, adding that the bilateral ties have added positive energy on the path to global peace and development.
He made a state visit to Russia on Monday and Tuesday before traveling to Germany for a state visit and to attend the G20 Summit in Hamburg.
Xi and Russian President Vladimir Putin have maintained close contact this year. Xi highlighted their intensive talks on Monday, during which the two leaders "reached lots of new consensuses".
China and Russia have always backed each other on issues related to each other's core interests, Xi said, adding that the two countries have also maintained close and effective coordination on regional and global issues.
"No matter how the outside environment changes, the China-Russia relationship will not be affected," Xi said.
Noting that Xi selected Russia as the first country to visit after becoming Chinese president in 2013, Putin said Russia appreciated the gesture and cherished the friendship.
With joint efforts made by both sides, the two countries have made progress in the areas of economics, trade, military, technology and people-to-people communication, Putin said, adding that they have also had constructive interactions in international affairs.
Two joint statements were issued on Tuesday outlining the main political outcomes of the visit. One concerned bilateral ties focusing on the development of China-Russia cooperation in various fields. The other dealt with global issues, with Russia and China declaring a unified position on important regional and international matters.
The two presidents also witnessed the signing of a number of documents to boost cooperation in such areas as investment, energy, finance and agriculture and approved the 2017-20 implementation outline for the Treaty of Good-Neighborliness and Friendly Cooperation Between China and Russia.
The foreign ministries of both countries also issued a joint declaration on the Korean Peninsula issue.
Putin presented Xi with the Order of St. Andrew the Apostle, one of Russia's highest honors, for his prominent work in strengthening friendship between the peoples of Russia and China.
"This is not only an honor for me but also a symbol of the great importance that Russia attaches to relations with China, and the Russian people's friendly feelings toward the Chinese people," Xi said at the award ceremony.
Xi's meeting with Putin was the third so far this year. They have met a total of 22 times.
In early June, Xi and Putin met in Kazakhstan's capital, Astana, on the sidelines of a summit of the Shanghai Cooperation Organization. Before that, Xi hosted Putin in Beijing during the Belt and Road Forum for International Cooperation, which brought together dozens of heads of state in May to discuss issues of common concern.
Zhang Jingquan, a professor of Northeast Asian studies at Jilin University, said that the steady development of China-Russia relations is good for the stability of the Eurasian continent.
Both countries, which have sought political solutions to the Syrian conflict and the Korean Peninsula nuclear issue, have played the role of a "ballast stone" in safeguarding regional and global peace and stability, Zhang said.
The closer relationship between Xi and Putin has become a "locomotive" for cementing the two countries' comprehensive strategic partnership of coordination, said Chen Yurong, a senior Eurasian studies researcher at the China Institute of International Studies.
China has been Russia's largest trading partner for years, and Russia is China's major source of cutting-edge machinery and other high-tech imports.
Last year, China and Russia managed to reverse the downtrend in bilateral trade, bringing up volume by 2.2 percent to $69.5 billion.