Pandas from China ready to meet public in Berlin's new home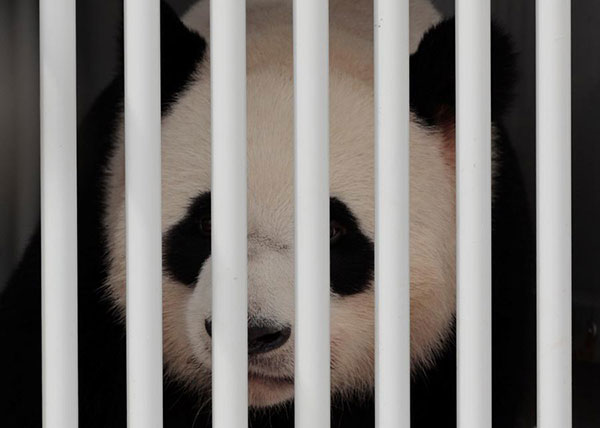 Jiao Qing, a panda bear, arrives at the Berlin airport in Berlin, Germany, June 24, 2017. [Photo/Agencies]
BERLIN - Meng Meng and Jiao Qing, two giant panda bears that have just arrived in the German capital of Berlin from China earlier last week, are getting ready to meet the public as the Berlin Zoo is busy preparing for the opening ceremony of a refurbished Panda Garden scheduled for Wednesday.
The pandas' arrival also came a few days ahead of Chinese President Xi Jinping's visit to Germany, where he will also attend the Group of 20 summit in the German port city of Hamburg.
Xi is expected to join German Chancellor Angela Merkel to inaugurate the Panda Garden at Wednesday's opening.
The cute new residents in the zoo are quite fast getting accustomed to their new environment, according to Yin Hong, a Chinese panda keeper who accompanied the pair coming all the way from a panda research base in the southwestern Chinese city of Chengdu to Berlin.
Meng Meng, which means "sweet dream", is a four-year-old girl panda, while Jiao Qing, meaning darling, is a seven-year-old boy.
"With just one night's rest after their arrival, appetite has quickly returned to the two pandas since the second day and they have been very responsive to the instructions given to them," said Yin.
Dr. Andreas Ochs, senior veterinarian at the zoo, told Xinhua that Meng Meng and Jiao Qing are "very healthy" right now.
"Obviously, they feel very good here. You can see them climbing around inside. They are still under quarantine ... you just have the feeling that they are not strangers. They used the inside furniture as they have been forever here," he said.
To make sure that Meng Meng and Jiao Qing have enough food before local replacements are picked, the Chinese keepers have carried with them 1,000 kg of the kind bamboos they used to feed the two pandas back in Chengdu.
Already, the German side has offered 10 kinds of bamboo, and the pandas love six of them.
Ochs said the zoo has a lot of experience in getting bamboo here in Berlin for the past 30 years, adding that the two pandas eat 30 kg per day.
Meng Meng and Jiao Qing, who have come to Germany on a 15-year conservation and breeding program, are not the first pandas given or loaned to the European country by China.
The last panda Berlin had was Bao Bao, which was sent to Berlin in 1980 as a state gift by China. The panda died 2012.
According to Yin, eating bamboo alone is not nutritiously adequate, and each day they will prepare for the pandas a moon-cake like snacks based on a special recipe that put together some wheat flour, soybean meal, cornmeal, a little soybean oil, and a pinch of salt and calcium.
"Our German partners have already learned how to make such cakes for the pandas so that we do not have to worry when we are back home," Yin said.