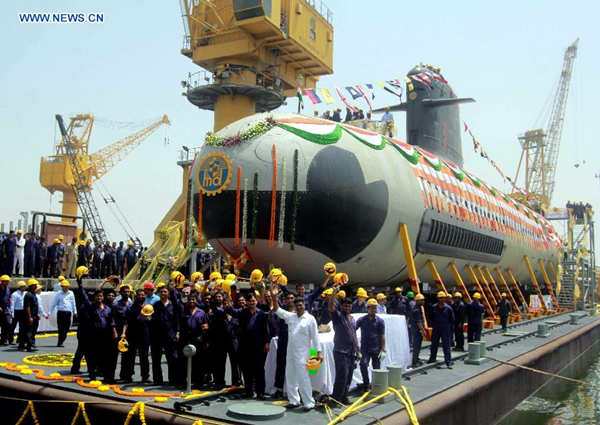 Employees stand near Indian Navy's first indigenously-built Scorpene attack submarine at Mazagon Dock in Mumbai, India, April 6, 2015. [Photo/Xinhua]
Sensitive data pertaining to India's Scorpene submarines has been leaked, a report in the Australian media revealed.
The massive data leak of more than 22,000 classified pages has hit the French shipbuilder DCNS, thereby affecting a major submarine contract for the Indian navy. The data leak has revealed the detailed information about the combat capability of the Scorpene submarines being built in India.
So far it is unclear whether the leak occurred in India or in France and how the Australian media obtained the confidential documents.
The Indian Navy said on Wednesday that it was analysing the leak and affirmed that the source of leak was from overseas and not in India.
"A case of suspected leak of documents related to Scorpene submarines has been reported by a foreign media house," a statement issued by Indian Navy said. "The available information is being examined at Integrated Headquarters, the Ministry of Defence (Navy) and an analysis is being carried out by the concerned specialists."
India signed a US$3.5 billion deal with French manufacturer DCNS for six Scorpene submarines in 2005 to be built in Mumbai with an Indian government-owned shipbuilder.
India's Defense Minister Manohar Parrikar has sought a report from the Indian Navy chief on the leak.
Meanwhile a DCNS spokeswoman described the leak as "a serious matter", saying the French authorities would formally investigate the matter.
"As a serious matter pertaining to the Indian Scorpene program, French national authorities for defense security will formally investigate and determine the exact nature of the leaked documents," a DCNS spokeswoman said in a statement.