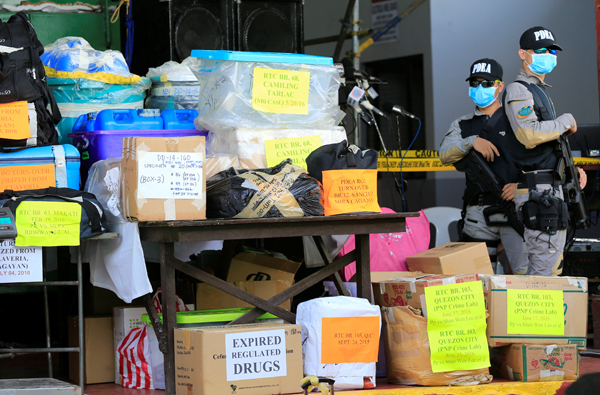 Members of Philippine Drug Enforcement Agency (PDEA) stand guard besides confiscated illegal drugs such as methamphetamine hydrochloride, referred as Shabu, cocaine, marijuana, ephedrine, ketamine, pseudoephedrine and expired medicines, during the destruction of illegal drugs at a waste management facility in Trece Martires town, Cavite, south of Manila July 14, 2016. [Photo/VCG]
MANILA - Philippine National Police Director General Ronald de la Rosa said on Monday a total of 1,779 people have been killed in the Philippines' war on illicit drugs since July 1.
He told a senate inquiry that 712 were killed in ongoing police operations while 1,067 died in "vigilante-type" killings, meaning "outside of police operations."
De la Rosa said in his opening statement that the Philippine National Police's "stand against extrajudicial killings is uncompromising."
"If any cop is found violating the law of self-defence he will be investigated, prosecuted and accordingly punished," he said.
"On the speculation of vigilante killings, the PNP does not and will never condone vigilante killings," he added. "I have previously mentioned that these killings are perpetrated by various syndicate groups involved in illegal drugs."
De la Rosa vowed to apply the "full force of the law against those responsible for these killings" outside of police operations.
The increasing number of killings in the administration's war against drugs has caught the attention of the United Nations and other international human rights groups.
Philippine President Rodrigo Duterte however is unfazed by the growing criticisms, repeatedly saying the fight against drugs will be relentless and will be sustained.
"I am willing to answer all (my critics). I assume full responsibility for what happened because I was the one who ordered it," Duterte told a news conference in Davao City at the weekend.
"My instructions at the very first day of my term were that: go out and hunt for these criminals. Arrest them if they surrender peacefully but if they put up a violent stunt then you just have to kill him because I do not want people in government dying needlessly for doing his work when you were then leaving behind a family and children," he said.
The president lamented that the government is also losing an average of two or three police officers in every drug operation launched by the police.
Duterte has singled out a senator, police generals, judges and politicians who were allegedly involved in illicit drugs operations in the country.
He said drug addiction has become a pandemic, saying there are an estimated 3.7 million Filipinos who are hooked into drugs. So far, he said 600,000 drug users and pushers have "surrendered" and took the drug test since his administration launched the campaign when he took over the presidency on June 30.