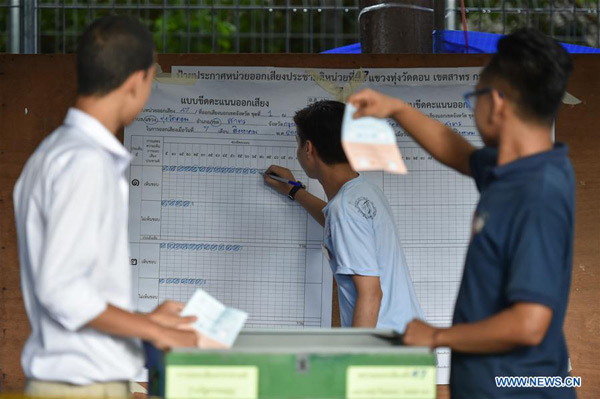 Staff members count ballot at a polling station after Thailand's constitutional referendum ends in downtown Bangkok, Thailand, on Aug. 7, 2016. [Photo/Xinhua]
BANGKOK - The majority of voters across Thailand approved a junta-backed new draft constitution and an additional question in Sunday's referendum, paving the way for the formation of a civilian government supported by the military.
The voter turnout in the referendum reached over 50 percent, according to Thai officials.
With 91 percent of the ballots counted, 62 percent of voters across the country approved the 2016 draft constitution, while about 38 percent voted against it, Somchai Srisutthiyakorn, chairman of the Election Commission, told reporters.
Nearly 58 percent had voted in favor of the additional question while 42 percent countered it, he added.
"The gap is wide enough not to change the result," said Srisutthiyakorn.
Around 50.5 million Thais out of the total population of 65 million are eligible to vote in this referendum on two questions on their ballots, the first one on their opinion on the constitution, and the second on whether they wanted 250 senators picked by the current junta, or the National Council for Peace and Order (NCPO), to have power to elect a prime minister along with 500 elected members of House of Representatives.
The 105-page draft constitution consists of 16 charters and the Transitory Provisions, or 279 sections. Though it contains strong provisions on healthcare and education, people have different opinions regarding its contents about the national assembly, the election of a new prime minister, the constitutional court, and anti-corruption mechanism.
The draft constitution was always said to be an anti-corruption basic law by its supporters as it bans any political corruption and bestows great power upon a nine-member National Counter-Corruption Commission.
However, its mechanism to combat corruption attacks both the Pheu Thai Party and prominent figures from the Democrat Party.