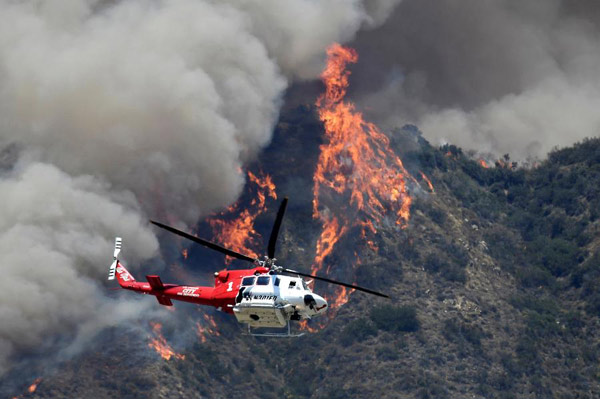 A Los Angeles City Fire Department helicopter flies over one of two wildfires in the Angeles National Forest above Azusa, California, US June 20, 2016. [Photo/Agencies]
ACTON, Calif. - A deadly California wildfire that has destroyed more than a dozen homes drove thousands more residents from their dwellings on Monday as flames raged for a fourth day through drought-parched canyons and foothills north of Los Angeles.
About 300 miles (480 km) to the north, another fire ravaged a hilly area near the scenic coastal city of Carmel-by-the-Sea, churning through 15,000 acres (6,070 hectares) and destroying 20 homes and two outbuildings, authorities said.
The so-called Soberanes Fire, burning in the Los Padres National Forest in Monterey County, threatened 1,650 structures by Monday afternoon and was only 5 percent contained, the US Forest Service said.
Near Los Angeles, a beefed-up force of nearly 3,000 firefighters battled to outflank the blaze there, which has charred at least 50 square miles (130 square km) on the rugged northwestern fringes of the Angeles National Forest, authorities said.
The so-called Sand Fire, which erupted on Friday, remained just 10 percent contained on Monday morning, as crews backed by bulldozers labored to hack buffer lines around the blaze's perimeter.
Fed by dense brush left desiccated during five years of drought, flames were initially stoked by triple-digit heat and extremely low humidity. Slightly cooler, moister weather and diminished winds were expected to assist firefighters on Monday.