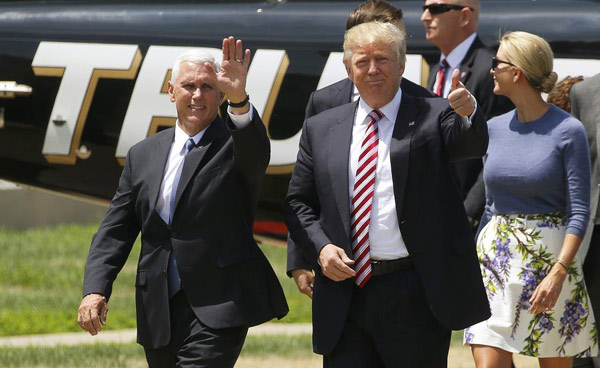 US Republican vice presidential nominee Governor Mike Pence (L) and Republican presidential nominee Donald Trump walk together with Trump's daughter Ivanka (R) after Trump arrived by helicopter at a Trump 'Friends and Family Arrival Event" for the Republican National Convention in Cleveland, US, July 20, 2016. [Photo/Agencies]
CLEVELAND, the United States - One of the themes of 2016 Republican National Convention is to "Make America One Again." Ironically, three days into the convention, even party unity still remains elusive despite Republican presidential nominee for 2016 US election Donald Trump's effort to put on a unity show.
Relations between Trump and party leaders were constantly strained during the chaotic primary season where the bombastic and bellicose candidate hurled insults at party establishment and alienated a wide swath of constituencies with controversial remarks.
As the primary season came to an end, the past grudge still lingers on.
Long before the GOP convention kicked off on Monday in Cleveland, Ohio, four of the five previous GOP presidential nominees still alive, including former presidents George H.W. Bush and George W. Bush, announced that they would sit out Trump's coronation party which lasts from July 18 to 21.
Meanwhile, Trump's four former rivals in the nomination race, including Ohio Governor John Kasich, Florida Sen. Marco Rubio, former Florida Governor Jeb Bush and South Carolina Senator Lindsey Graham, also did not attend this year's convention.
Compared with others, Kasich's decision to dodge was even more conspicuous since the convention was being held in the very state where he was the governor.
Even among party leaders who attended the convention, their enthusiasm for Trump appeared to be lukewarm.