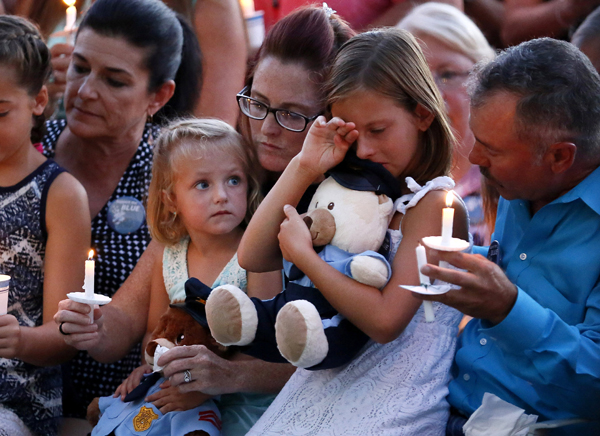 Dechia Gerald, wife of slain officer Matthew Gerald, holds her two daughters at a vigil in Baton Rouge, Louisiana, US, July 18, 2016. [Photo/VCG]
BATON ROUGE - An Iraq war veteran who gunned down six policemen in Baton Rouge targeted the officers in a brutally calculated ambush, officials said on Monday, deepening their investigation into the second racially charged armed assault on US law enforcement this month.
Three officers were killed and three were wounded, one critically, when Gavin Eugene Long, a former US Marine Corps sergeant, opened fire on police responding to a report of a gunman dressed all in black walking down a street in Louisiana's capital on Sunday morning.
Updating reporters on their investigation a day after the deadly rampage, police described how video footage showed the 29-year-old suspect hunting down police officers and sheriff's deputies, while bypassing civilians he encountered.
The carnage came to an abrupt end less than 10 minutes after it began when Long, affiliated with an African-American branch of the anti-government Sovereign Citizen movement, was shot dead by a police SWAT team marksman, firing from a position about 100 yards away.
Police said they believe that Long, armed with two rifles and a pistol, had intended to make his way to the headquarters of the Baton Rouge Police Department a short distance away to carry on with his assault.
"There is no doubt whatsoever that these officers were intentionally targeted and assassinated," Louisiana State Police Superintendent Colonel Mike Edmonson said during a news conference. "It was a calculated act against those who work to protect this community every single day."
Added Baton Rouge Police Chief Cal Dabadie, "I have no doubt he was headed to our headquarters, and he was going to take more lives."