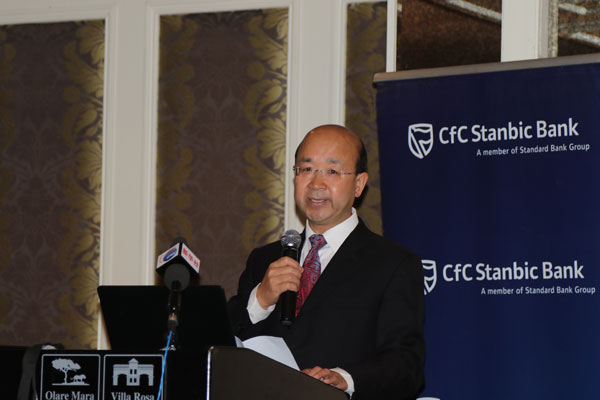 Ambassador Liu speaks in the forum.Photo/Liu Hongjie
Direct cash exchange between the Chinese yuan and the Kenyan shilling was officially launched on Wednesday as Kenya's CfC Stanbic Bank became the first bank in the country to make the currency available at its branches to facilitate trade between China and Kenya.
Chinese Ambassador to Kenya Liu Xianfa and CfC Stanbic Bank Chief Executive Philip Odera, completed the first two transactions at the CfC Stanbic Bank's Chimoro branch in Nairobi, the capital of Kenya.
"Financial cooperation between China and Kenya is seeing an accelerated growth," Liu said. "Promoting the internationalization of RMB in Kenya is a win-win situation for both Kenya and China."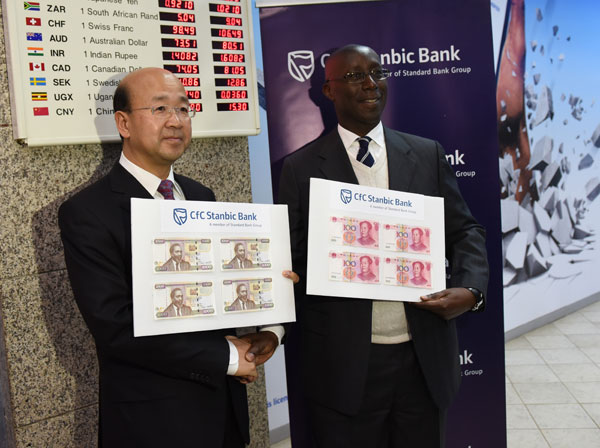 Ambassador Liu and Mr. Odera pose for a photo after completing the first two transactions.Photo/Li Baishun
Adam Jones, head of personal & business banking of CfC Stanbic Bank Kenya, said that direct exchange between the RMB and the Kenyan shilling will "further and develop the trade and business opportunities and potential that exist between Kenya and China."
Direct exchange between the RMB and the Kenyan shilling is a major step in China's integration into the global financial system. RMB is the world's fourth most-used payments currency, and has been officially included in International Monetary Fund's Special Drawing Rights (SDR) Basket since last year.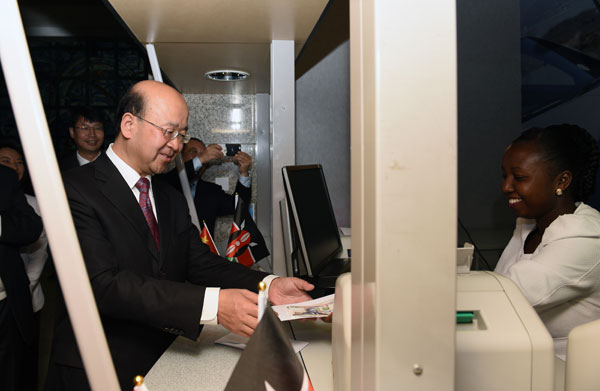 Ambassador Liu exchanges Chinese yuan into Kenyan shilling at CfC Stanbic Bank Chimoro Branch.Photo/Li Baishun
At present, Kenyans seeking to trade with China are required to acquire foreign currency such as the US dollar which they then convert to the Chinese yuan. CFC Stanbic Bank plans to simplify Sino-Kenya trade by offering yuan currency directly without having to undergo multiple foreign currency transactions.
CfC Stanbic Bank is one of the largest banks in Kenya, owned by Standard Bank, the largest bank in Africa in terms of asset. In 2008 the Industrial and Commercial Bank of China (ICBC) acquired a stake of about 20 percent in Standard Bank, becoming its largest shareholder.
China is Kenya's largest trading partner and Kenya's top source of imports. In 2015, bilateral trade revenue between China and Kenya gained 20 percent to $6.16 billion. The number of ongoing engineering projects contracted by Chinese firms has grown to 172, reaching total revenue of $9.5 billion, an increase of 173 percent. Newly contracted projects number 48, with revenue totaling $2.25 billion, a 127 percent increase. Chinese investments in Kenya has seen a 37.6 percent rise to $320 million.
Kenya has become China's sixth-largest trading partner in Africa, ranking 64th among China's trading partners, up from 88.