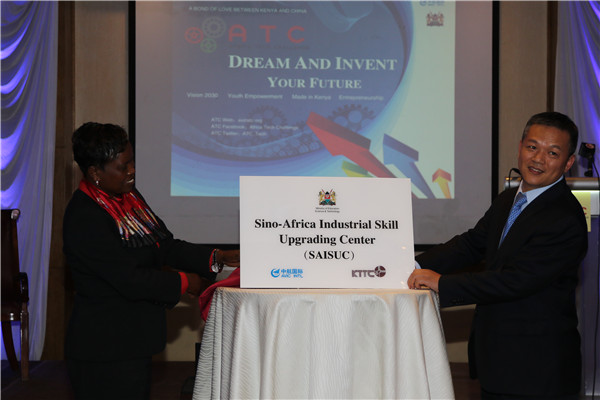 Mr. Qian and MS. Mwinzi unveils the SAISUC. Photo/Liu Hongjie
China and Kenya on Tuesday promoted the building of skills needed by young people for employment.
Aviation Industry of China International (AVIC INTL) held the opening ceremony of the third Africa Tech Challenge (ATC) on Tuesday in the Kenyan capital of Nairobi and the Sino-Africa Industrial Skill Upgrading Center (SAISUC) was unveiled.
"As one of the successful overseas Chinese state-owned companies, AVIC is responsible for contributing to African society and local people through enhancing local human capacity building, which is also helping Kenya to develop its own manufacturing industry," said Qian Rong, deputy president of AVIC-INTL Project Engineering Company, during the opening ceremony.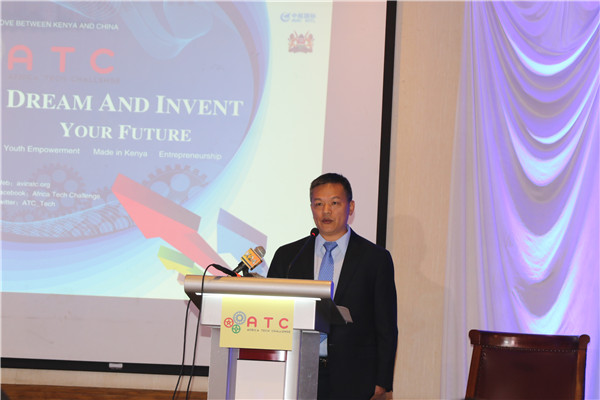 Mr. Qian speaks during the ceremony. Photo/Liu Hongjie
Aiming at empowering innovation and creativity, ATC inspires the African youth through intensive training programs.
AVIC INTL in Kenya develops the competition under one of their corporate social responsibility projects. The first ATC competition was launched onJune 10, 2014 by AVIC INTL and the Ministry of Education, Science and Technology (MoEST) in Kenya. In the past two years, seven students received full scholarship for post-graduate study in China through ATC and the finalist teams had opportunities to work as interns with technical companies.
Dinah Jerotich Mwinzi, principal secretary of MoEST, said that when she saw machinery to be exported with the logo "Made in Kenya", it made her very proud of her country. The machinery was manufactured at two technical schools, the Kabete National Polytechnic and the Nyeri National Polytechnic, whose students won the manufacturing contract in the first ATC in 2014. Now their products are even exported to China.
Qian, the deputy president, said AVIC INTL is also looking forward to helping more African youth build their competitive technical skills in other African countries like Uganda and Zambia, while also establishing another training center in the west African country of Ghana.