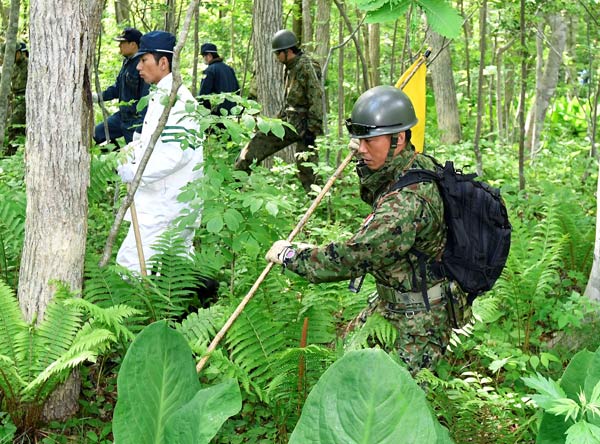 Japanese Self-Defense Force soldiers (R and 2nd R) and police officers search for a 7-year-old boy who went missing on May 28, 2016 after being left behind by his parents, in Nanae town on the northernmost Japanese main island of Hokkaido, Japan, in this photo taken by Kyodo on June 2, 2016. [Photo/Agencies]
TOKYO - A small boy was found alive on Friday after spending six days in a remote mountainous area in Hokkaido, northern Japan, according to local police and search and rescue officials.
The 7-year-old boy, identified as Yamato Tanooka, who went missing in the mountain forest six days ago after his parents dumped him on the side of the road from their car, allegedly for disciplinary measures.
The boy was found at around 7:50 am on Friday by Self-Defense Forces personnel in the town of Shikabe in Hokkaido, about 5 km away from the town of Nanae, where he was originally abandoned by his parents on Saturday.
Members of the police, fire department, and Self-Defense Foreswore swiftly employed to search for Tanooka once his parents reported him missing on Saturday evening.
As many as 180 police officers and firefighters, as well as SDF personnel, have been searching for the boy for the past six days, but hopes had been quickly fading for a safe recovery as fresh waters sources in the area are limited.
More worryingly, however, as Japan's "Twitterati" has been pointed out in the story that has gone viral on social media that the forested region where the boy went missing is home to Hokkaido's Ussuri brown bear, sometimes known as the black grizzly and is one the biggest and most ferocious of its species.
One Twitter user commented, "I think it's utterly deplorable that a child's parents could do this. They should be punished."
However, on news of his safe recovery the tone online was more upbeat, with one user saying, "I guess he wasn't delicious enough for the bears" with others suggesting the boy may have had special superpowers that kept him safe.
"I think his parents should now be made to spend six days in bear country with no food or water, maybe that will teach them how to discipline their child in the future," another Twitter user wrote.
To the joy of the internet that has been buzzing with this story, initial tests have shown that despite his horrendous ordeal, the young boys in relatively good health.