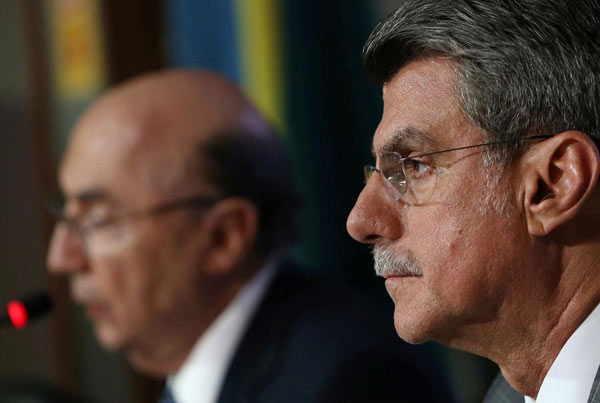 Brazilian Finance Minister Henrique Meirelles (L) and Planning Minister Romero Juca attend a news conference in Brasilia, Brazil, May 20, 2016. [Photo/Agencies]
RIO DE JANEIRO -- Brazil's interim government has suffered damage on Monday as one of the ministers was caught on tape discussing that impeaching President Dilma Rousseff was to halt a corruption investigation involving state-owned energy giant Petrobras.
Planning and Budget Minister Romero Juca later announced his decision to take a leave from office to reduce the repercussion.
The recorded conversations indicate that the senator-turned-minister was eager to impeach Rousseff not because of the alleged motive for her impeachment, namely fiscal irregularities, but because the corruption investigations were about to implicate a number of high-profile politicians.
In conversations with Sergio Machado, the former head of Petrobras' oil and gas transportation company Transpetro, Juca said he was worried that more executives of construction companies involved in fraudulent contracts with Petrobras will turn in evidence, implicating more politicians in the corruption scandal.
The records were made in March, before the first impeachment vote against Rousseff. In one of the conversations, Juca said that the government must halt the investigations, and that putting Vice President Temer in office would lead to a "big deal" which would result in the investigations being scrapped.
He also implied that the Brazilian Social Democracy Party (PSDB) will fall if the investigations continue, and that he talked with Supreme Court judges who said that investigations could only be halted without Rousseff in office.
Rousseff has been impeached over alledged fiscal irregularities.
The three-year-long investigation into a major corruption scheme involving the country's most important state-controlled company has so far resulted in the arrest of several politicians, former Petrobras executives and executives of some of Brazil's leading construction companies.
Interim President Michel Temer's administration has been facing several protests against the interim government since taking office, including a gathering of 40,000 Rousseff supporters in Belo Horizonte on Friday.
Analysts said though Temer's administration retains the support of several political parties, it remains unclear whether it will be strong enough to face the challenges to come in the next few months.
There is still a possibility that Rousseff's Workers' Party will win enough Senate votes to put her back in power, they said.