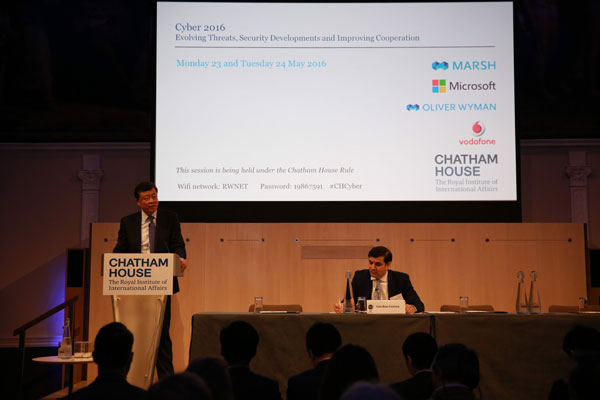 Chinese Ambassador Liu Xiaoming speaks at the "Cyber 2016" Conference in London, May 24, 2016. [Photo by Song Wei/chinadaily.com.cn]
The Chinese Ambassador to the UK, Liu Xiaoming urged joint efforts in building a community with a common future in cyberspace at the "Cyber 2016" Conference in central London on Tuesday.
In a speech delivered at Chatham House of the Royal Institute of International Affairs, Liu said collaboration is "the optimal path" to tackle the challenges.
China stands ready to join hands with other countries to foster "a peaceful, secure, open and cooperative cyberspace", he told the audience.
The ambassador pointed out that an open Internet has the potential to bring great advantages for all of humanity, and he urged more platforms like the World Internet Conference in East China's Wuzhen last year to exchange views and experience between nations.
Liu said China attaches importance to international cooperation as the country advances Internet development at home.
China is now home to over 4.13 million websites, and embraces nearly a quarter of the world's Internet user base, which totals about 670 million.
However, Liu noted that the Internet, one of the greatest inventions of humanity in the 20th century, has not only provided positives, but also negative side effects.
Trans-national, anonymous and untraceable activities in cyberspace have become of increasing concern, along with cyber surveillance, attack and terrorism, which are now a global scourge.
"The world today is far from being a peaceful place," Liu said. "Building peace in cyberspace is highly significant for all countries of the world."
The ambassador therefore suggested that the "principle of sovereign equality" – enshrined in the UN Charter - be applied in cyberspace.
It means each nation should have the right to develop its own model of cyber regulation and their Internet related policies should be respected, explained Liu.
He also emphasized that the interpretation and application of international law in cyberspace must be aimed at enhancing common security rather than encouraging hegemony or power politics.
"Attempts by any nation to have Internet supremacy over others will leave hidden risks of potential turbulence and conflicts," Liu said.
In terms of cyberspace governance, Liu explained that it means in China, cyberspace must be based on rules, and it must be governed, operated and used in accordance with the law.
When answering a question from the audience concerning with the latest accusation that Apple Inc. is facing unfair treatment in China's Internet domain, Liu said China is very open when it comes to foreign businesses.
"I think we all admit that Apple's business is thriving in China, and there is still a huge market for Internet companies and high-tech companies."
Liu advised foreign companies who want to do business in China to understand how the Internet is governed by China, and to follow, and respect the rule of law.
Contact the reporter: songwei@chinadaily.com.cn