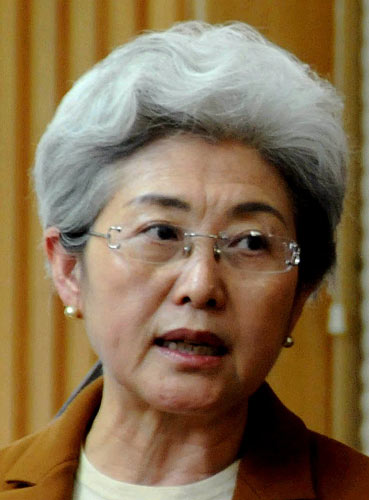 Fu Ying, the NPC Foreign Affairs Committee chairwoman
A call for more dialogue and communication between China and the United States to build new consensus for joint ties has been made by senior Chinese official Fu Ying.
Fu, who chairs the National People's Congress' Foreign Affairs Committee, sees a gap between a worrisome perception of China-US relations and the reality that ties are closer than ever.
The countries' presidents hold meetings at least twice a year; China has become the US' biggest trading partner on a monthly basis; nearly 5 million people traveled between the two nations last year; and the two countries together pushed for the signing of the Paris Agreement on climate change.
But all these accomplishments occurred as some experts in the US predicted that if China continues to grow at its present speed, conflict between the countries will be unavoidable, Fu said.
"The need for cooperation and the impact of competition are both growing. The gap between perceptions and real life may reflect the need to rebuild consensus," Fu said on Tuesday at a seminar at Stanford University in Palo Alto, California, titled Rebuilding Trust: China-US Relations.
Despite a sizable number of "optimistic voices" on US-China relations in the US, Fu said there are also some there who wonder whether "the constructive engagement" policy pursued by eight successive US administrations should continue.
"In the past 30 years, we had friendly moments, but never very close; we had problems, but the ties were strong enough to avoid derailing. Now we are at a high level, and if we work together, we are capable of making a difference in the world, but if we fight, we will bring disaster to the world," Fu said.
She found the message coming from the US to be rather confusing sometimes, reflected in its reluctance to acknowledge China's efforts in providing the Asian Infrastructure Investment Bank and the Belt and Road Initiative.
Fu sees recent tension over territory in the South China Sea as reflecting the risks involved in the relationship.
She also said that in recent years, "after the US launched its pivot to Asia, more blatant provocations to China's sovereignty have happened, and there are even attempts to expand disputes".
She called on the two countries to follow up on President Xi Jinping's proposal that China and the US move toward a new model of major-country relations, avoiding conflict and confrontation and respecting each other in cooperation.
Contact the writers at hezi-jiang@chinadailyusa.com