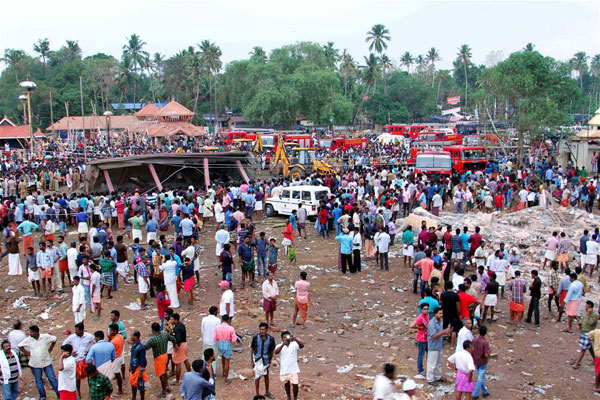 The site of the Puttingal Devi temple fire is seen in the southern Indian state Kerala, on April 10, 2016. [Photo/Xinhua]
NEW DELHI - At least 110 people were killed and more than 350 others injured in a massive fire that broke out during a fireworks display at a temple in the southern Indian state of Kerala early Sunday morning, a senior police official said.
"In fact, the fire started around 3 am local time during the fireworks display at a ground next to the Puttingal temple in the state's Kollam district, packed with 15,000 people attending a festival," he said, on condition of anonymity.
While 110 people were killed, those injured have been admitted to various hospitals in Kollam and other nearby districts, where makeshifts air-conditioned camps have been set up, the official said, adding that the death toll may go up as the condition of some are said to be critical.
Indian military choppers have been pressed into service to ferry the injured to the hospitals and the state government has cancelled the leaves of all doctors and demanding them to report to duty.
According to officials, a spark had actually ignited a stack of fireworks, triggering the fire.