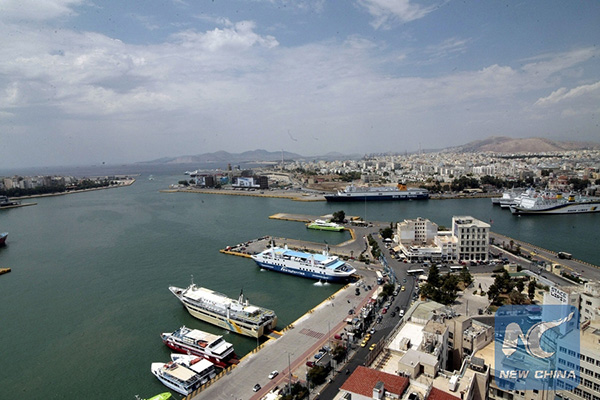 Ships are docked at Piraeus port in Athens, Greece, on Feb 17, 2016. [Photo/Xinhua]
ATHENS - An agreement between Greece's privatization fund HRADF and China COSCO Shipping Corporation for the sale of the majority stake in Piraeus Port Authority (PPA) was signed on Friday in Athens.
Under the deal, the Chinese investors will pay 280.5 million euros to HRADF for the initial acquisition of a 51 percent stake, while it will pay another 88 million euros within five years for the remaining 16 percent, provided it has implemented the agreed investments in the port.
The agreement was signed by HRADF chief Stergios Pitsiorlas and COSCO Hong Kong CFO Feng Jinhua in the presence of Greek Prime Minister Alexis Tsipras, China COSCO Shipping Chairman Xu Lirong and Chinese Ambassador to Greece Zou Xiaoli at the office of Greek Prime Minister.
Welcoming Xu at his office, Tsipras said the agreement signing will "cut the 'Silk Road' shorter."
Addressing distinguished guests after the ceremony at the Zappeion Exhibition Center in Athens, Xu said China COSCO Shipping has always been committed to harmonious development in Greece and a win-win situation for all parties.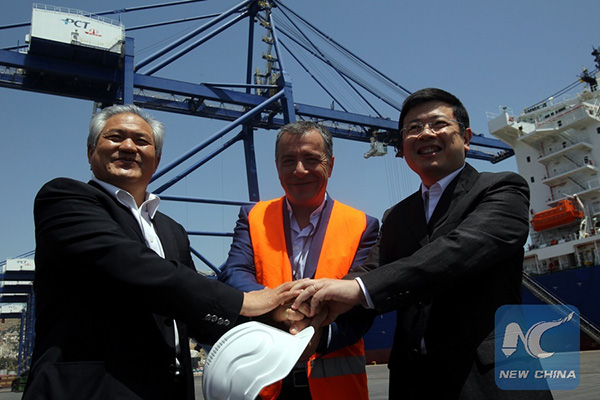 (L to R) COSCO PCT CEO captain Fu Chengqiu, Greek Potami (River) Party leader Stavros Theodorakis and Chinese Ambassador to Greece Zou Xiaoli shake hands while taking a tour at COSCO's subsidiary Piraeus Container Terminal (PCT) premises at Piraeus port, Athens, Greece, on May 15, 2015. [Photo/Xinhua]
In addition, China COSCO Shipping will not only operate a port that will connect Asia and Europe trade, but will also create jobs and help invigorate the Greek economy, he added.
On the Greek part, Greek Deputy Prime Minister Yannis Dragassakis said these agreements are of strategic nature as they are not temporary, but can generate prospects for the next decades.
Chinese Ambassador to Greece Zou Xiaoli added that the agreement marked a historic milestone for Sino-Greek friendship and relationships at multiple levels.
Since 2009, China COSOCO Shipping's subsidiary Piraeus Container Terminal (PCT) has been operating Piers II and III at Piraeus port under a 35-year concession agreement, posting remarkable results, while PPA was running Pier I until today.
China COSCO Shipping's vision to turn Piraeus into a leading international transit hub for products and services from Asia to Europe has already attracted other major multinationals to the port which are cooperating with PCT to distribute their products in the region.