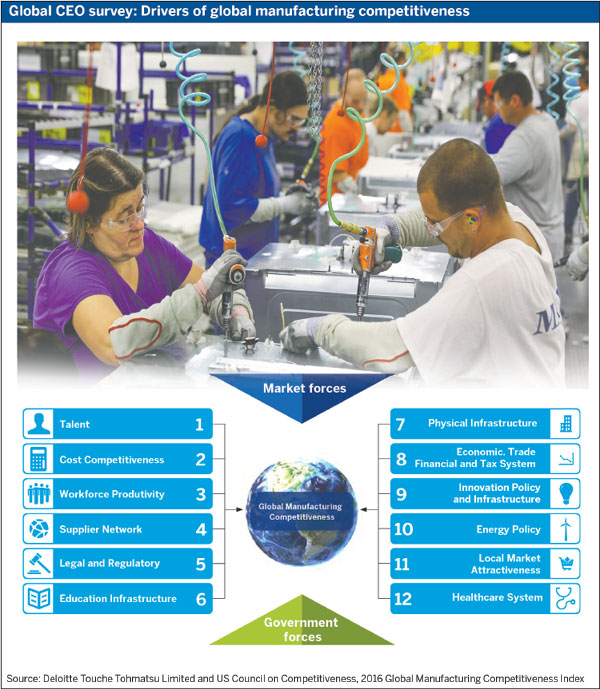 While China is currently the most competitive manufacturing nation on the globe, a new study released on Wednesday predicts that the United States will surpass it by the end of the decade, as a global shift to more advanced methods of assembly favors advanced economies.
"As the manufacturing industry increasingly applies more advanced and sophisticated product and process technologies and materials, traditional manufacturing powerhouses of the 20th century (US, Germany, Japan and the United Kingdom) are back toward the very top of the 10 most competitive nations in 2016," said a summary for the 2016 Global Manufacturing Competitiveness Index, compiled by Deloitte Touche Tohmatsu Ltd and the Council on Competitiveness in the US.
The 2016 study, released on Wednesday, was based on a survey of CEOs who were asked to rank countries in terms of current and future manufacturing competitiveness. The study also closely examined six focus nations: China, Germany, India, Japan, South Korea and the US, as those countries account for 60 percent of the world's manufacturing gross domestic product.
The study said the top five most competitive nations in manufacturing now are China, US, Germany, Japan and South Korea. By 2020, the study said the order will be the US, China, Germany and Japan, with India replacing South Korea.
"Consistent with the previous 2010 and 2013 Global Manufacturing Competitiveness Index studies, China is again ranked as the most competitive manufacturing nation in 2016, but is expected to slip to second position as global executives provide their perspective on how the next five years will play out," the report said.
Hal Sirkin, senior partner and managing director of the Boston Consulting Group and a professor at Northwestern University's Kellogg School of Management, said the US and China should be at the top of the rankings now and probably in the future.
"The US and China are the world's biggest economies, and I don't see anything that would change that order," he said in an interview. "It will be that way for awhile just based on population."
"Chinese executives probably see competitiveness slipping due to rising wages and their growing skepticism about the effectiveness of government support. Land costs are also an issue in some areas.
However, a projection of second globally to what appears to be a strong American economy is certainly not a major deterioration or failure on China's part," noted Derek Scissors, a resident scholar on China at the American Enterprise Institute in Washington.
Jian Yang, a professor at the University of Colorado-Denver said the traditional Chinese advantage in manufacturing - cost competitiveness - has been compromised due to rising wages and soaring land prices.
"This obviously contributes to the decline in manufacturing competitiveness. There is also room for China to further improve its productivity, particularly for some State-owned enterprises," he said.