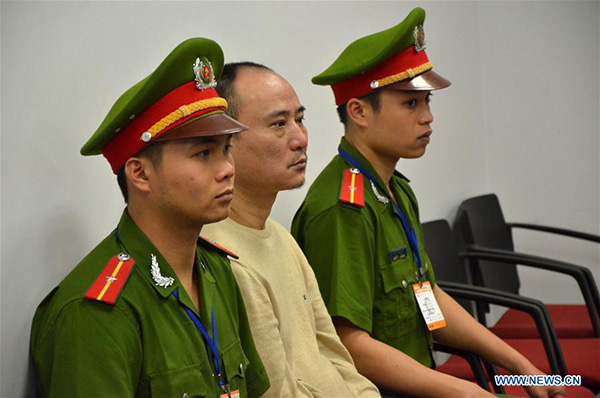 The Chinese suspect Zhou (C) is under the control of Vietnamese policemen at the Noi Bai International Airport in Hanoi, Vietnam, on April 5, 2016. [Photo/Xinhua]
HANOI - The Vietnamese police transferred a Chinese suspect to their Chinese counterpart on Tuesday at the Noi Bai International Airport.
This is the first important achievement of the Joint Operation Two on Capturing Escaped Suspects between China and Vietnam's public security ministries.
The male suspect whose surname is Zhou was born in December 1969 in Wenzhou, Zhejiang province of China.
Zhou is wanted by the Chinese police for suspicion of opening casino.
In 2011, Zhou, together with other people, set up an online gambling site, involving capital of 400 billion Chinese yuan (nearly $61.8 billion), with profit of 580 million Chinese yuan ($89.6 million).
Zhou later fled abroad. in 2014, the International Criminal Police Organization issued red notice against Zhou.
In 2015, Chinese Ministry of Public Security sent request to the Vietnamese side over the arrest of Zhou.
Under the coordination between Vietnamese police and the liaison office of Chinese police in Vietnam, Hanoi Police Department successfully arrested Zhou at a restaurant in Hanoi in March 2016.
During the Joint Operation One on Capturing Escaped Suspects between China and Vietnam from November 2014 to July 2015, the two sides arrested 47 escaped suspects.