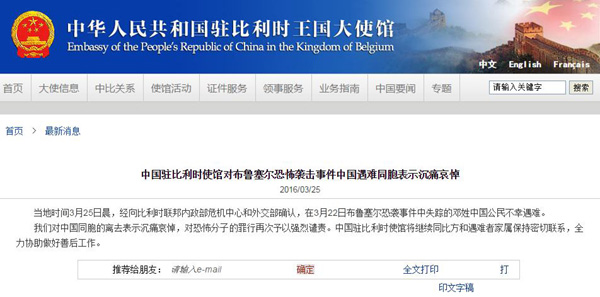 A Chinese national was among those killed in the serial terror attacks in Brussels, the Chinese embassy in Belgium confirmed Friday.
The victim is surnamed Deng, said the notice.
The victim who went missing since Tuesday has unfortunately fallen victim to the terror attacks, said the embassy after confirming the news with the emergency center of the Belgian Ministry of Interior and the Belgian Foreign Ministry.
"We express deep condolences over the death of our Chinese compatriot and strong condemnation on the criminal act of the terrorists," said the Chinese embassy on its website.
The embassy said it will continue close contact with Belgian authorities as well as the family of the Chinese victim and do its utmost to deal with the aftermath.
On Tuesday, two suicide blasts hit the departures hall of Brussels International Airport and a subway carriage at the Maelbeek station, close to the European Union institutions, killing at least 31 people and injuring over 300 others.