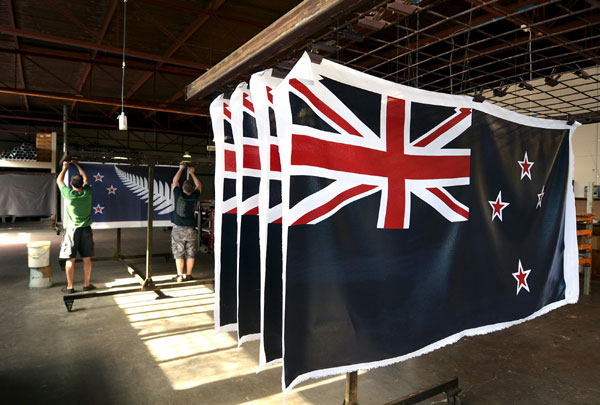 Factory workers Garth Price (L) and Andrew Smith (R) hang new designs of the national flag of New Zealand at a factory in Auckland, New Zealand, in this November 24, 2015 file photo.[Photo/Agencies]
WELLINGTON  - New Zealand voted on Thursday in favour of retaining the country's flag, the preliminary results of a referendum showed.
The existing flag features the United Kingdom's Union Jack in the corner and four red stars in a Southern Cross formation, indicating New Zealand's location in the South Pacific.
Just over 1.2 million people voted to keep the flag, while around 900,000 people voted for an alternative, according to a statement from the New Zealand government.
Thursday's results did not include any ballots that were already in the post but had not yet been received. The final results, which were not expected to significantly change, would be released on March 30.