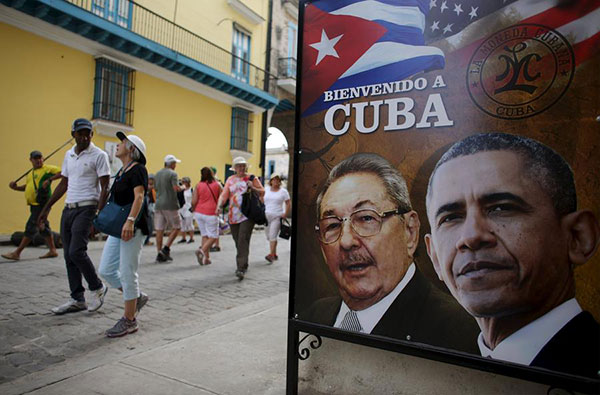 Tourists pass by images of US President Barack Obama and Cuban President Raul Castro in a banner that reads "Welcome to Cuba" at the entrance of a restaurant in downtown Havana, March 17, 2016. [Photo/Agencies]
BEIJING -- China said on Monday its continued mutually beneficial cooperation with Cuba does not target any third party, nor will any third party affect the in-depth development of China-Cuba ties.
Foreign Ministry spokesperson Hua Chunying made the remarks at a daily press briefing in response to US President Barack Obama's current visit to Cuba.
"We have taken notice of President Obama's visit to Cuba. We are glad to see the normalization of the relations between the two countries," Hua said.
She said the current positive momentum between the two states is in line with the interests of the Americans and Cubans as well as the peace, stability and development in the region.
"We hope that both sides can consolidate the current momentum," Hua said, urging the United States to completely lift its decades-old embargo against Cuba as soon as possible.
As for the association between China-Cuba relations and the US - Cuba relations by some media recently, Hua said China pays more attention to mutual benefits and win-win cooperation in the modern international relations.
China and Cuba have maintained long-term friendly cooperation and will continue to boost the mutually beneficial cooperation, Hua said.
Obama arrived in Cuba on Sunday for a historic visit that could mark the beginning of a new era in US relations with its neighbor after more than 50 years of Cold War-era animosity.
Prior to his trip, the Cuban government ruled out the possibility of offering political concessions to Washington as a precondition to restoring full bilateral ties with the United States.
Havana stressed Washington's economic and financial blockade of the island remains in force despite new measures announced last week by the White House to relax aspects of the embargo.
The visit which ends on Tuesday, the first by a U.S. president since 1928, marks the most important moment since Obama and Castro agreed in December 2014 to restore diplomatic ties and end half a century of hostility following Cuba's revolution, which ousted a pro-American government in 1959.