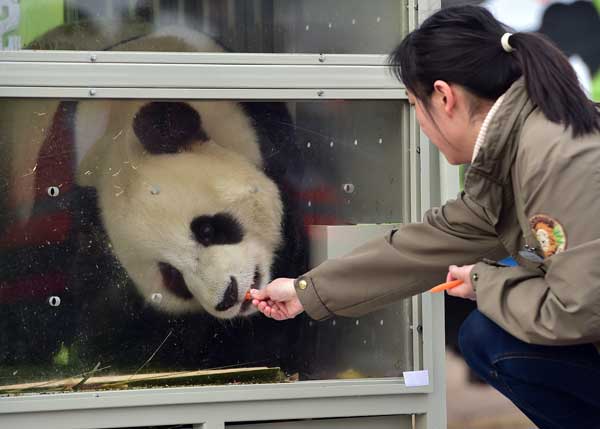 A South Korean keeper feeds Yuan Xin at a welcoming ceremony at Seoul's Incheon International Airport on Thursday. JUNG YEON-JE / AFP 
A pair of giant pandas being loaned by China to the Republic of Korea for 15 years arrived in Seoul on Thursday.
Yuan Xin, a male, three and a half, and Hua Ni, female, two and a half, are being loaned following a meeting between President Xi Jinping and his ROK counterpart Park Geun-hye in 2014.
The pandas arrived at Incheon International Airport in Seoul in the afternoon after a flight of 4 hours 40 minutes from Shuangliu International Airport in Chengdu, the capital of Sichuan province.
They are the second pair of pandas to be loaned to the ROK by China in 22 years.
In 1994, Ming Ming and Li Li from the Chengdu Research Base of Giant Panda Breeding in Sichuan arrived in the ROK and stayed at the Samsung Everland Resort for four years before being returned to China.
Yuan Xin and Hua Ni, from the China Conservation and Research Center for the Giant Panda in Sichuan, will also stay at the Samsung Everland Resort.
Qiu Yu, an information officer from the conservation and research center, said, "To ensure that the latest pair adapt to their new habitat in the ROK, a vet and keeper from our center will stay at the Samsung Everland Resort for six months."
Yuan Xin, who is lively and outgoing, and Hua Ni, who is slightly introverted and docile, will live in a 3,300-square-meter habitat at Everland, the ROK's largest amusement park, about 40 kilometers from Seoul. The ROK will pay $1 million to China for each year of the pair's stay.
A male panda one year older than the female has been sent because male pandas usually mature sexually one year later than females.
Li Desheng, a panda expert at the center, said, "The arrangement ... is aimed at getting the pair to reach the breeding age at the same time and give birth in the ROK."
Since the 1990s, the China Conservation and Research Center for the Giant Panda has loaned 32 pandas to 10 foreign countries.
With the new panda pair, the ROK is currently the 14th country to have pandas from China.