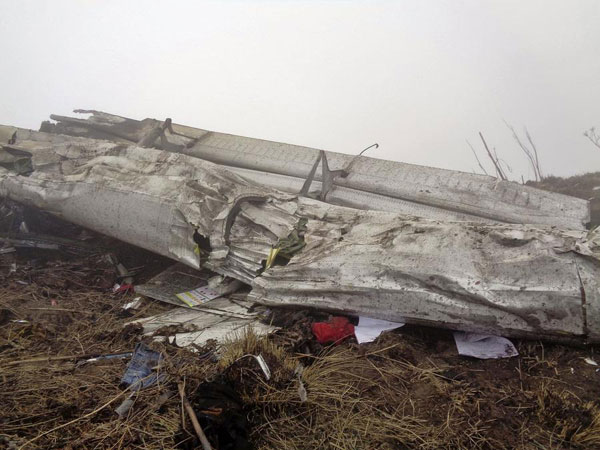 Wreckage of Twin Otter plane, operated by private Tara Air, is pictured after it crashed due to bad weather, in Myagdi, Nepal, February 24, 2016. [Photo/Agencies]
KATHMANDU - The rescue team mobilized to the Tara Air crash site in Nepal will not be able to take the dead bodies to Kathmandu, Nepal's capital city, on Wednesday as the weather condition in the site has worsened, a senior Nepalese government official said.
The Chief District Officer (CDO) of Myagdi, CDO Sagar Mani Pathak, said the rescue team was unable to take the dead bodies to Kathmandu as the accident site may see snowfall anytime.
Nepalese authorities have confirmed that all 23 on board the ill-fated plane have been dead. Two foreigners, a Hong Kong resident and a Kuwaiti national, were among those on board.
The weather was such that helicopters were unable to operate there, he said, noting that two helicopters sent to search for the missing plane have been stationed two hours south of the crash site.
The Viking 9N-AHH Twin Otter with three crew was en route from Pokhara city to Jomsom, Mustang in the western Nepal when it crashed in Myagdis Rupse area.
The plane took off from Pokhara Airport at 7:50 am local time and lost contact with Pokhara Air Traffic Control 10 minutes later when it reached the airspace of Ghorepani, Myagdi.