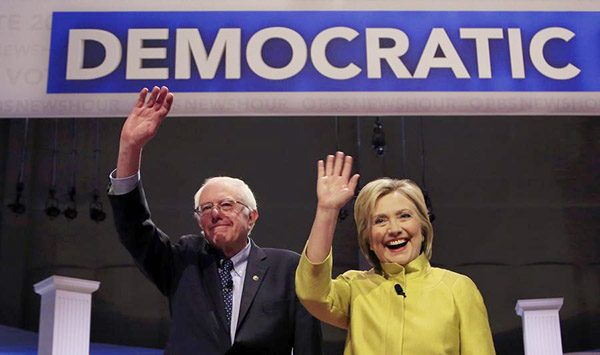 Democratic US presidential candidates Senator Bernie Sanders and former Secretary of State Hillary Clinton arrive on stage ahead of the start of the PBS NewsHour Democratic presidential candidates debate in Milwaukee, Wisconsin, February 11, 2016. [Photo/Agencies]
MILWAUKEE - Democratic presidential candidate Hillary Clinton accused rival Bernie Sanders in a debate on Thursday of misleading Americans about the costs and viability of his healthcare plan, saying he was making promises "that cannot be kept."
Clinton moved aggressively against Sanders early in their sixth presidential debate, saying Sanders' proposal for a single-payer, Medicare-for-all healthcare plan would mean dismantling Obamacare and triggering another intense political struggle.
"You need to level with people about what they will have at the end of the process you are proposing," Clinton said.
"Based on every analysis I can find by people who are sympathetic to the goal, the numbers don't add up," she said. "That's a promise that cannot be kept."
Sanders said he would not dismantle the healthcare plan known as Obamacare and was simply moving to provide what most industrialized countries have - universal healthcare.
"We're not going to dismantle anything," Sanders said. "In my view healthcare is a right of all people, not a privilege, and I will fight for that."
Clinton entered Thursday's debate under acute pressure to calm a growing sense of nervousness among her supporters after a 22-point drubbing by Sanders on Tuesday in the New Hampshire primary election and a razor-thin win last week in the Iowa caucus. Both states have nearly all-white populations.
For his part, Sanders hoped to harness the momentum and enthusiasm he gained from the first two contests and prove he can be a viable contender to lead the Democratic Party to victory in the Nov. 8 presidential election.
"What our campaign is indicating is that the American people are tired of establishment politics," Sanders said. "They want a political revolution."
The race now moves to what should be more favorable ground for Clinton in Nevada and South Carolina, states with more black and Hispanic voters, who, polls show, have been more supportive of Clinton so far.
Clinton on Thursday won a significant endorsement from the Congressional Black Caucus, while Sanders has launched his own effort to make inroads among African-American voters.
Sanders met with civil rights leader Al Sharpton the morning after his New Hampshire win, and has aired advertising and built up staff quickly in both Nevada and South Carolina. The debate on Thursday was the last one before those two contests.
After South Carolina on Feb. 27, the presidential race accelerates with 28 states voting in rapid succession in March, including 11 states on March 1 and big prizes such as Ohio, Florida and Illinois on March 15.