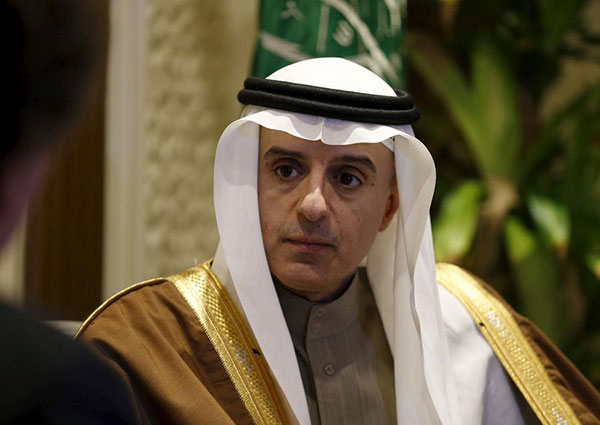 Saudi Arabia's Foreign Minister Adel al-Jubeir attends an interview with Reuters, in Riyadh January 4, 2016.[Photo/Agencies]
Saudi Arabia has severed diplomatic ties with regional rival Iran, following attacks on the kingdom's embassy and consulate in Iran over the execution of a prominent Shiite cleric.
Riyadh announced on Sunday that it was cutting ties with Teheran, and it asked all Saudi diplomats to leave within 48 hours, local media reported.
Saudi Foreign Minister Adel al-Jubeir said he had informed the UN Security Council of the attack on the Saudi diplomatic mission in Iran late on Saturday, adding that the Saudi diplomats had safely reached Dubai in the United Arab Emirates.
He accused the Iranian authorities of not taking any measures to prevent the attacks against the embassy in Teheran and the consulate in Mashhad, Iran. He also said the attack violated international agreements.
Late on Saturday, angry Iranian protesters stormed the Saudi diplomatic mission to protest the Saudi execution of 47 individuals on terrorism charges, including a Saudi Shiite cleric, Nimr al-Nimr.
Iran's Foreign Ministry said on Monday Saudi Arabia used the embassy attack as a pretext to fuel tensions.
Iranian President Hassan Rouhani described the execution of al-Nimr as "inhuman" and urged his government to prosecute those who attacked the embassy.
Ayatollah Ali Khamenei, Iran's top leader, predicted "divine vengeance" for al-Nimr's execution.
China voiced concern on Monday over the row between Iran and Saudi Arabia, calling on the two countries to keep calm and show restraint.
"China is paying close attention to the development of the situation and worries about the escalation of the regional conflict caused by their row," said Foreign Ministry spokeswoman Hua Chunying at a regular news conference.
XINHUA/AP/REUTERS