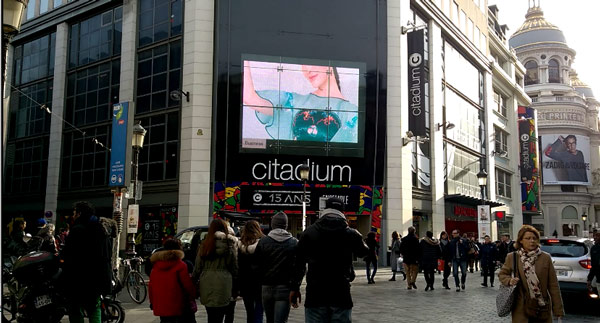 The film plays on a screen of the Citadium commercial building in Paris. Photo provided to chinadaily.com.cn
A film promoting Chinese silk which has been playing on a large screen in the Paris business district will have its screening time extended to New Year's Day, 2016.
The movie "Chinese Silk Joins the World" began playing on large screens of Galeries Lafayette and Printemps on Dec 1, 2015, and has been broadcast in Chinese and English TV stations of Xinhua News Network in Europe and America and on other media channels.
The film was planned by the national cocoon silk coordination office of the China's Ministry of Commerce and produced by TV production company CICM.
The theme of the film is "Chinese silk joins the world" to continue to carry forward the Silk Road's spirit of "peaceful cooperation, openness and tolerance, mutual learning, mutual benefit and win-win", and to promote the building of the Silk Road Economic Belt and the 21st Century Maritime Silk Road.
The purpose of playing the promotional film in Paris is to further enhance the international influence of Chinese silk and to spread "silk from the China", "Chinese silk is shared in the world" and other ideas, said Wang Zhaohui, the producer of the film.
When promoting the national strategic vision, this promotion of Chinese silk culture helps Chinese silk, which fuses traditional workmanship with modern fashion, to become the new bright spot in the world's cultural industry and creative economy. It promotes the development of Chinese silk culture on the basis of the idea of "founding a country by culture" and in order to increase China's soft power. It also promotes the design creative ability of Chinese silk products and the product added value.
Since 2012, CICM has produced various versions of the Chinese silk propaganda film "Splendid China", and released them with great fanfare in New York's Times Square, Beijing's Tiananmen Square, Chinese channels on American television, Hong Kong, Macao and Taiwan satellite television channels, China's embassies and consulates in European countries, banks and other high-end commercial properties.