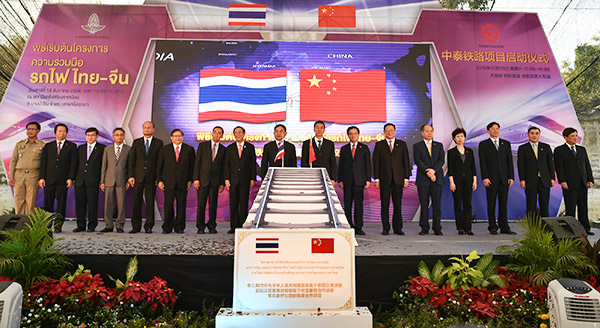 Officials from China and Thailand attend the launching ceremony of the railway project on Dec 19, 2015. [Photo/Xinhua]
BEIJING -- The ground was broken on Saturday for Chinese and Thai companies to build the first standard-gauge railway in Thailand, applying China's technology, standard and equipment, the China Railway Corporation (CRC) said.
Earlier on Saturday, a launching ceremony was held at Chiang Rak Noi Station in central Thailand's Ayutthaya province, according to the CRC.
Chinese Premier Li Keqiang and his Thai counterpart, Prime Minister Prayuth Chan-ocha, sent each other congratulatory messages on the commencement of the cooperation project.
The 845-km railway will allow trains to operate at top speeds of 180-250 km per hour, according to the CRC.
The whole project will be divided into four sections, namely, Bangkok-Kaeng Khoi, Kaeng Khoi-Map Ta Phut, Kaeng Khoi-Nakhon Ratchasima and Nakhon Ratchasima-Nong Khai.
Chinese-built railways using advanced technologies are safe, reliable, flexible in application and cost-effective, said a CRC executive, hailing the launch of the project as a yes vote of the international community for the technological competitiveness and comprehensive advantages of Chinese-built railways.
The China-Thailand railway project, the negotiation of which was overseen by governments, will be jointly invested, built and operated by the two sides, representing a major experiment and creative move to let Chinese-built railways "go global," the executive said.