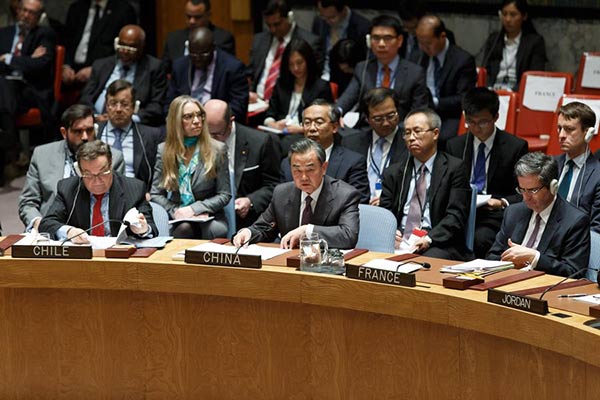 Chinese Foreign Minister Wang Yi speaks to members of the Security Council at the United Nations Headquarters in Manhattan, New York, Dec 18, 2015. [Photo/Xinhua]
NEW YORK - Chinese Foreign Minister Wang Yi on Friday called for representative, balanced and inclusive Syria talks while attending the third ministerial-level meeting of the International Support Group for Syria in New York.
All the opposition groups that support a political settlement and do not engage in extreme, terrorist activities should have the opportunity to participate in future Syria peace talks, Wang said.
The United Nations can also be invited to participate in the talks to lend authority and legitimacy to the talks, he said.
In terms of ceasefire, a gradual approach should be adopted given realistic feasibility considerations. With the progress of peace talks and growing trust, the scope of the ceasefire can be expanded, he said.
On the fight against terrorism, Wang said, focus should be put on strengthening coordination and forging synergy.
"We hope that this ministerial meeting can coordinate all anti-terrorist operations in Syria and forge synergy," he said, adding that concerted counter-terrorism efforts are needed not only in military action, but also to be reflected in the exchange of information and the cessation of distribution channels of terrorist personnel and funding.
As for humanitarian aid, the minister noted that more assistance should be given to Syria and neighboring countries. China has provided humanitarian aid on multiple occasions to Syria and other countries in the region, and China is ready to strengthen coordination with the parties concerned.
In terms of reconstruction, efforts could be made to establish a Reconstruction Trust Fund led by the United Nations and to encourage the voluntary return of refugees through reconstruction, he said.
"The Syria issue is very complicated. We hope all parties can seize the opportunity to set aside disputes, build consensus, overcome the difficulties and work together to promote a political settlement of the Syria issue and China will continue to play a constructive role in the process," he added.