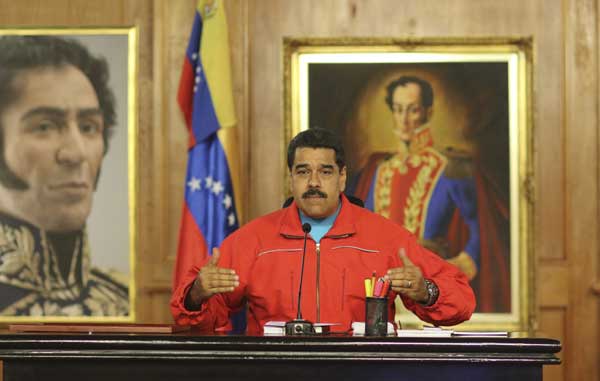 Venezuela's President Nicolas Maduro talks to the media during a news conference at Miraflores Palace in Caracas December 7, 2015. [Photo/Agencies]
CARACAS - Venezuelan President Nicolas Maduro announced an imminent cabinet reshuffle on Tuesday after his ruling Socialist Party was crushed in legislative elections, but he vowed to veto opposition plans for an amnesty law for jailed politicians.
Current National Assembly head Diosdado Cabello added that the government would appoint 12 new supreme court judges, among other "tasks," before Dec 31.
The new legislature, two-thirds of which will be made up of opposition politicians, is set to begin work in January.
Venezuela's government was stunned by Sunday's elections, winning just 55 seats against the opposition's 112 and losing control of the National Assembly for the first time since former President Hugo Chavez took office in 1999.
One of the opposition's main aims in the new legislature is to secure the release of jailed politicians, most notably Leopoldo Lopez who was imprisoned for leading anti-government protests in 2014 that triggered violence leading to more than 40 deaths.
Maduro, though, was defiant during a three-hour television appearance on Tuesday night.
"I will not accept any amnesty law, because they violated human rights," Maduro said. "They can send me a thousand laws but the murderers have to be prosecuted and have to pay."
Venezuela's opposition urged Maduro earlier on Tuesday to stop making excuses for his candidates' defeat and instead urgently tackle food shortages and free the jailed politicians.
The worst economic crisis in the OPEC country's recent history has Venezuelan staples including flour, milk, meat and beans running scarce. Shortages are particularly bad for the poor and beyond the capital, Caracas, with shoppers lining up for hours hoping a delivery truck will arrive.