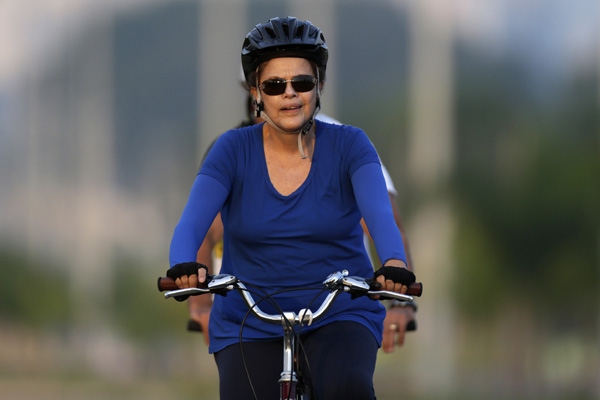 Brazil's President Dilma Rousseff rides her bicycle near the Alvorada Palace in Brasilia, Brazil, December 8, 2015. [Photo/Agencies]
BRASILIA - The lower house of Brazil's Congress voted on Tuesday to appoint a special committee stacked with opponents of President Dilma Rousseff to analyze the impeachment case against her.
In a secret ballot, lawmakers voted 272-199 for a list of committee members drawn up by the opposition and pro-impeachment members of the centrist Brazilian Democratic Movement Party (PMDB), the biggest party in Rousseff's governing coalition.
This is a blow to the first female president of Brazil who is battling for political survival as with this result, 39 of the 65 seats on the special commission will belong to the parties seeking to impeach her.
The commission is charged with studying the case, then making a recommendation to the lower house of Congress, where a two-thirds vote would be required to put Rousseff on trial in the upper house and possibly remove her from office.
The opposition has been calling for Rousseff's impeachment since she took office for her second presidential term in January.
Last week, the president of Brazil's Chamber of Deputies, or the lower house, authorized impeachment proceedings against Rousseff.
Rousseff is accused of illegal budgeting maneuvers, but she said the practices were long accepted by previous governments. She calls the attempt to bring her down a "coup".