German software company SAP SE is playing an active role in China's digital transformation, said Mark Gibbs, president of the software giant's Greater China region.
China's key national strategies that will upgrade its traditional industries with next-generation information technology and tech-savvy manufacturing will benefit SAP's growth, Gibbs told China Daily ahead of German Chancellor Angela Merkel's trip next week to China.
China's collaboration with Germany in technology, commerce and government will help to set clearer global standards, Gibbs said.
"For me, it is very satisfying given the close collaboration between the Chinese government and Germany. We have seen it grow strongly - probably more so than many nations around the world - where Germany and China have partnered in technology and have set directions in standards with companies from both countries," he said.
For the third quarter this year, SAP said it registered a strong "high double-digit" growth in its cloud business in China.
Third-quarter operating profits for the company, headquartered in Walldorf, Germany, jumped 19 percent from the previous year to 1.62 billion euros ($1.78 billion), mostly due to a steady growth in sales of its enterprise software, which helps manage business operations and customer relations, and its cloud computing-related services.
The company is expecting a stronger fourth quarter, when many of its clients renew contracts and licenses.
In China, SAP serves multinationals, such as the Lenovo Group Ltd, State-owned enterprises and emerging businesses. Its business software platform (called SAP HAHA), its enterprise application software for vertical industries and its cloud-based solutions operated in partnership with China Telecom are the company's key businesses in China.
Gibbs is confident in China's IT market despite the nation's current economic slowdown. He said the country's IT industry is set to grow robustly as the nation transforms from a big manufacturer to a smart one.
SAP's business applications range from accounting to human resources to supply-chain management.
Gibbs said China's move to structure its new economy around innovation will bring new business opportunities for SAP.
He claimed that the company's marketing strategies will work seamlessly with China's key national strategies - the Internet Plus, the Belt and Road Initiative and Made in China 2025 - that encourage domestic enterprises to upgrade their information technology infrastructure to keep pace with the digital economy.
Research firm IDC estimated that despite the slowdown, China will spend a few dozen trillion yuan in the IT market.
Wu Lianfeng, associate vice-president of IDC, said overseas tech giants need a clear plan for strong development in China.
"China will remain a market with gigantic potential. Overseas players have to find a way to unlock the demand," Wu said.
Gibbs said SAP has found a solution to tap into the nation's markets.
"SAP came out with a good route to help China's transformation," he said.
One way is to seize on a demand for software products as China pursues growth in cloud computing and big data industries as well as in robotics and artificial intelligence.
Besides the traditional cash-cow sectors of manufacturing, retail, telecom and energy, SAP is also eyeing the nation's expanding sports industry.
"I think it is a very exciting area. I think it is something we will put more investment into in 2016," said Gibbs, who added that soccer may be a potential market because its huge fan base in the country.
SAP provided data analytics services to Germany's national football team and helped the men's team win the World Cup in 2014.
"We have a lot discussion about what can we do for sports in China we will see what happens in the next year," Gibbs said.
gaoyuan@chinadaily.com.cn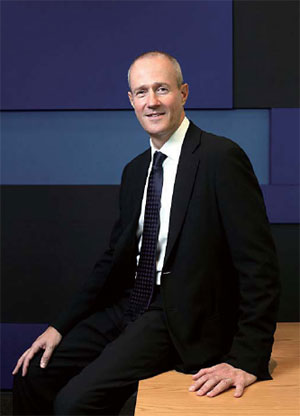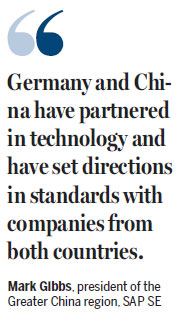 (China Daily 10/29/2015 page11)