Top Chinese and US navy officials are scheduled to meet on Thursday amid fresh tension in the South China Sea after a US warship illegally entered waters near a Chinese island on Tuesday.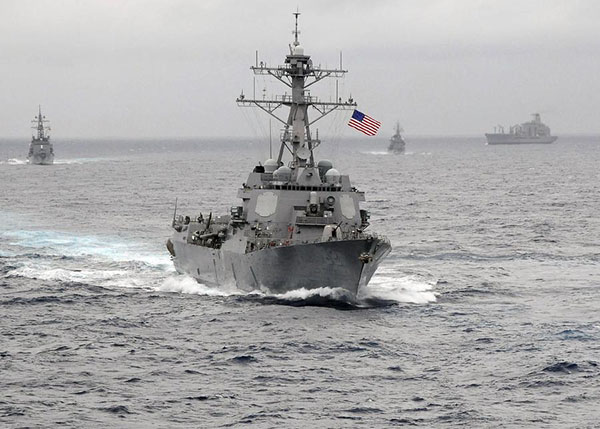 The US Navy guided-missile destroyer USS Lassen sails in the Pacific Ocean in a November 2009 photo provided by the US Navy. [Photo/Agencies]
Admiral Wu Shengli, commander of the People's Liberation Army Navy, and his US counterpart John Richardson, chief of the US Naval Operations, will hold an hour long video teleconference on Thursday, Reuters reported on Wednesday, quoting a US official.
It said the meeting was initiated by both officers to discuss recent operations in the South China Sea and naval relationship between the two countries.
Beijing continued to condemn the US action on the second day, as Foreign Ministry spokesman Lu Kang called the incident "a serious political provocation against China".
The Thursday video conference will be followed by a visit to Beijing in early November by Harry Harris, the commander of the US Pacific Command, sources told China Daily on Wednesday.
Experts said Harris' visit will be a good chance to boost mutual understanding and make Washington better informed about China's resolution and policy preparations for managing the situation in the South China Sea.
Earlier on Tuesday, the guided-missile destroyer Lassen entered waters near Zhubi Reef without the permission of the Chinese government, leading to China's fierce protests, including summoning US Ambassador to China Max Baucus.
On Wednesday morning, Japan's public broadcaster NHK quoted an unnamed official with the US Department of Defense as saying that the two sides are expected to discuss bilateral military exchanges and that "boosting exchanges could build trust between the navies of the two countries" and help "avoid unintended clashes".
Both countries have tried not to let the incident spill over into the overall bilateral relationship, especially the military-to-military cooperation which has warmed up in the past few years.
The People's Liberation Army Navy hospital ship Peace Ark will pay a port call at San Diego, California, early next week, meeting their US counterparts and city leaders. It is part of the Mission Harmony conducted annually by the Peace Ark and this year's trip includes Australia, French affiliated Polynesia, Mexico, Barbados, Grenada and Peru and other countries.
Meanwhile, the PLA Navy fleet, which had completed their anti-piracy mission in the Gulf of Aden, is also going to pay a port call at Jacksonville, Florida. The fleet, which consists of missile destroyer Jinan, guided-missile frigate Yiyang and supply ship Qiandaohu, is also on a global tour with stops at Sudan, Egypt, Denmark, Sweden, Cuba and Australia.
Teng Jianqun, a senior research fellow on US studies at the China Institute of International Studies, said Harris' visit "must have been a part of the annual plan of bilateral military exchanges".