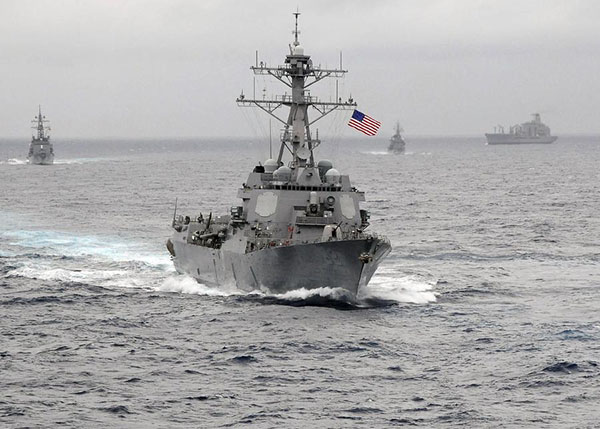 The US Navy guided-missile destroyer USS Lassen sails in the Pacific Ocean in a November 2009 photo provided by the US Navy. [Photo/Agencies]
In the wake of a United States warship illegally entering waters near a Chinese island in the South China Sea on Tuesday, the commander of the US Pacific Command, Harry Harris, will visit Beijing next week, a source who requested anonymity told China Daily on Wednesday.
Beijing continued to condemn the US action on the second day, as Foreign Ministry spokesman Lu Kang called the incident "a serious political provocation against China".
Experts said Harris' visit will be a good chance to boost mutual understanding and make Washington better informed about China's resolution and policy preparations for managing the situation in the South China Sea.
Earlier on Tuesday, the guided-missile destroyer Lassen entered waters near Zhubi Reef without the permission of the Chinese government, leading to China's fierce protests, including summoning US Ambassador to China Max Baucus.
On Wednesday morning, Japan's public broadcaster NHK quoted an unnamed official with the US Department of Defense as saying that Harris will visit China from Nov 2 to 5 and will embark on dialogues with Chinese military officials.
The report quoted the official as saying that the two sides are expected to discuss bilateral military exchanges and that "boosting exchanges could build trust between the navies of the two countries" and help "avoid unintended clashes".
Teng Jianqun, a senior research fellow on US studies at the China Institute of International Studies, said the visit "must have been a part of the annual plan of bilateral military exchanges".
"China's South China Sea policies won't be changed because of the incident on Tuesday, and China's efforts in championing a rise in interest will continue in a decent and well-founded manner," Teng said.
Zhang Junshe, a senior researcher at the PLA Naval Military Studies Research Institute, said that "increased high-level contacts between the Chinese and US militaries is a good thing anyway".
"Especially, this could help the US side better perceive and understand China's actions in the South China Sea to champion legal rights and interests, have further recognition of China's islands constructions, and avoid misunderstanding or miscalculation," Zhang said.
In a telephone interview with CNN on Tuesday, local time, Chinese Ambassador to the United States Cui Tiankai criticized the US for taking an "absurd and even hypocritical position" to ask others not to militarize the region while itself sending military vessels there so frequently.
He strongly refuted the US claim that it was exercising freedom of navigation rights in the region, saying that the US move was taken "in total disregard of international law."
At a regular news conference on Wednesday, Lu Kang said the US behavior "violated international laws including the United Nations Convention on the Law of the Sea as well as domestic laws of China".