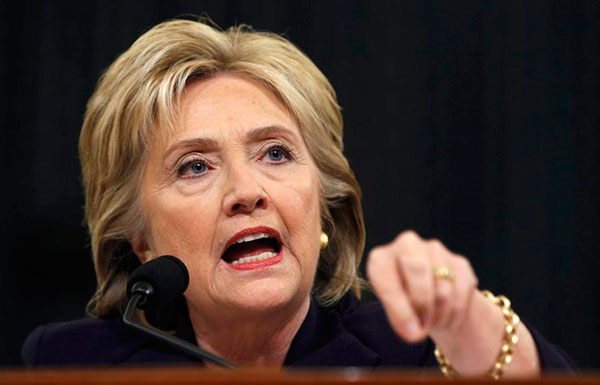 Democratic presidential candidate Hillary Clinton testifies before the House Select Committee on Benghazi, on Capitol Hill in Washington October 22, 2015. The congressional committee is investigating the deadly 2012 attack on the US diplomatic mission in Benghazi, Libya, when Clinton was the secretary of state. [Photo/Agencies]
WASHINGTON - Democratic presidential candidate Hillary Clinton deflected harsh Republican criticism of her handling of the deadly 2012 attack in Benghazi, Libya, at a testy hearing in Congress on Thursday that seemed unlikely to put a dent in the front-runner's campaign.
At a sometimes bitter day-long hearing, the former secretary of state shrugged off Republican accusations that she ignored requests for security upgrades in Libya and misinformed the public about the cause of the attack by suspected Islamist militants that killed the US ambassador and three other Americans in Benghazi.
Clinton, 67, avoided the fray during several heated exchanges between Republicans and her Democratic allies, and stayed composed under aggressive questioning from Republican lawmakers.
But hours of questioning uncovered no new revelations in a deadly incident that has been the subject of a half-dozen other congressional investigations and an independent inquiry.
Clinton told the panel that it was "personally painful" to be accused of ignoring security upgrades that could have saved the life of ambassador J. Christopher Stevens and three other Americans at the diplomatic compound.
"I've thought more about what happened than all of you put together," she told the Republican-led special panel. "I've lost more sleep than all of you put together. I've been racking my brain about what could have been done, should have been done."
The appearance before the Benghazi panel was a political test for Clinton, who has been on a hot streak since turning in a strong performance at last week's first Democratic debate and after Wednesday's news that her strongest potential challenger, Vice President Joe Biden, will not seek the Democratic nomination for the November 2016 election.
Clinton defended her leadership in Libya as America's top diplomat and denied longstanding Republican allegations that she personally turned down requests to beef up security in Benghazi.
"I was responsible for quite a lot," Clinton said. "I was not responsible for specific requests and security provisions."
Clinton told the panel the attacks must not discourage US action globally and said the incident already had been thoroughly investigated.
"We need leadership at home to match our leadership abroad, leadership that puts national security ahead of politics and ideology," Clinton said in her only early reference to the political controversy that has dogged the panel.
Opinion polls show Americans deeply split along partisan lines over the probe. A Reuters/Ipsos poll this week found 35 percent of respondents viewed the Benghazi hearings as mostly or completely valid. The percentage among Republicans was 67 percent, independents 39.6 percent and Democrats 16.5 percent.