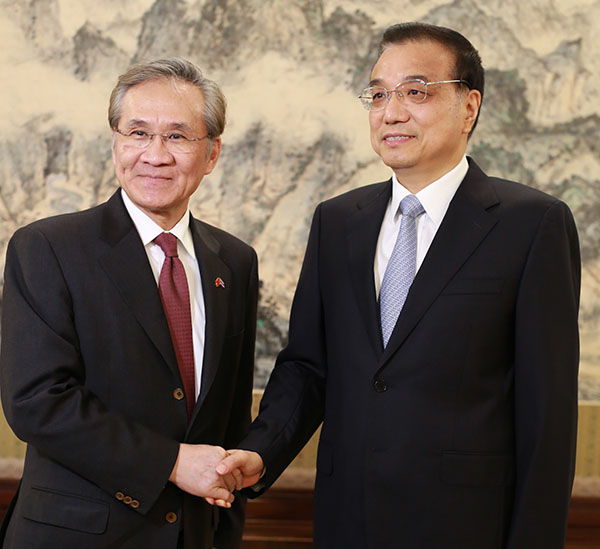 Premier Li Keqiang meets with Thai Foreign Minister Don Pramudwinai in Beijing on Friday. [FENG YONGBIN/CHINA DAILY]
Premier Li Keqiang called for an early start to a Beijing-backed rail project running through Thailand during his meeting with Thai Foreign Minister Don Pramudwinai on Friday.
Li said railway cooperation is the highlight of Sino-Thai cooperation, which can facilitate Beijing's Road and Belt Initiative to synergize with Thailand's economic development strategy.
"In addition, rail cooperation will also promote cultural and people-to-people exchanges between China and Thailand, as well as exchanges between China and countries in the Indochina Peninsula," Li said.
"China and Thailand are family."
The minister, a former Thai ambassador to China, said the Thai government attaches great importance to its relations with China, especially the cooperation in the rail sector. He said the Thai government is glad to see an early start to the construction.
The Chinese and Thai governments have recently agreed to start constructing a 840 km railway connecting Kunming in Yunnan province with Thailand's Nong Khai province, Bangkok, and Rayong province by the end of this year.
Thai Deputy Prime Minister Tanasak Patimapragorn said during the China-ASEAN Expo in the southern Chinese city of Nanning in September that the upcoming railway would be an important mode of transport for goods and people between China and Thailand.
The deputy prime minister said the line is expected to fuel economic development of Thailand and its neighboring countries, and Chinese cargo can also be more conveniently transferred to other parts of Asia, Africa and Europe through Thailand, which can help Chinese companies reduce their transportation costs.
According to China Railway Construction Corp, the round-trip fares from Kunming to Bangkok will be around 700 yuan ($115), between half and one-third of the airfare, and the freight fees are equivalent to one-ninth of the cost by air, Xinhua News Agency reported.
Thailand, the second largest ASEAN economy, currently has about 360 km of dual-track rails and is planning to upgrade transportation infrastructure.
Yang Xiuping, secretary-general of the ASEAN-China Center, said the railway will help tourism in Southeast Asia.
Statistics from China Tourism Academy showed 11 million Chinese tourists traveled to Southeast Asia in 2014.
The railway is expected to bring about 2 million more each year.
China is the biggest trade partner of Thailand and its second-largest export destination. Bilateral trade reached $63.4 billion in 2014.
Mechanical products take up half of the total products imported from China, while China buys plastic and rubber products from Thailand.
This year also marks the 40th anniversary of the establishment of bilateral diplomatic ties.
Thailand's GDP is expected to grow by 3 to 4 percent this year, after a dismal 0.7 percent growth in 2014.
During Friday's meeting, Li also spoke highly of Thailand's coordination role in China's relations with the ASEAN countries in the past three years, and he said China is willing to deepen ties with ASEAN countries and maintain regional stability.
Li said the Chinese economy has entered a new normal, and the government should follow the trend and encourage an innovation-driven economy, which will also provide business opportunities for neighboring countries including Thailand.