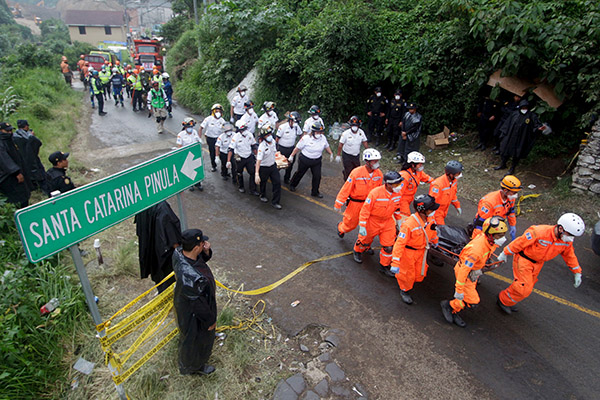 Rescue team members carry the bodies of mudslide victims toward the coroner's truck, in Santa Catarina Pinula, on the outskirts of Guatemala City, October 4, 2015. Despair in the search for hundreds of people buried in a landslide that swallowed part of a Guatemalan town is so deep that some relatives feel lucky simply to have found the bodies of their loved ones. Families on Sunday lit candles for relatives engulfed by a mass of earth and rubble that crashed down on a neighborhood in Santa Catarina Pinula. Rescue teams have found more than 130 bodies and up to 300 others are missing, feared dead. [Photo/Agencies]
GUATEMALA CITY - Weeping families lit candles for relatives buried in a massive landslide in Guatemala that killed at least 87 people and left another 300 missing feared dead as final, desperate rescue efforts to recover bodies began on Sunday.
A few miles from the hillside that came crashing down onto the town of Santa Caterina Pinula on Thursday night, Reginaldo Gomez stood by the body of his young grandson Andres, who lay garlanded with flowers in a small coffin lined with satin.
The four-year-old boy's mother and sister are among those still missing among the mounds of earth, shattered buildings and personal belongings scattered on the valley floor.
About 300 people are believed to be missing, officials said on Sunday, and the rescue teams that have pulled 87 corpses from the earth and rubble have found no survivors this weekend.
The tragedy on the southeastern flank of Guatemala City was not the first blow to strike the family. Reginaldo said he became a pastor following the death of two other children in an accident some years ago.
The El Cambray II neighborhood battered by the landslide on Thursday night lies at the bottom of a deep ravine ringed by trees.