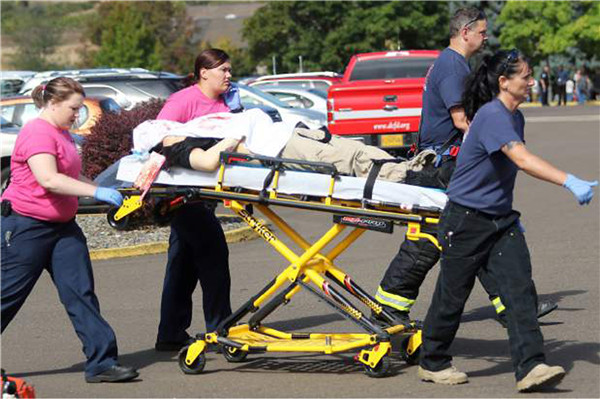 First responders transport an injured person following a shooting incident at Umpqua Community College in Roseburg, Oregon October 1, 2015. [Photo/Agencies]
A gunman opened fire on Thursday at a community college in Oregon, killing 13 people and wounding some 20 others before he was shot to death by police, in the latest mass killing to rock a US school, state and county officials said.
There were conflicting reports on the number of dead and wounded in the shooting rampage at Umpqua Community College, which began shortly after 10:30 am local time (1730 GMT).
The state's attorney general told the local NBC affiliate that 13 people had been slain, 20 wounded and the shooter was killed. The office of Ellen Rosenblum did not immediately return calls seeking comment.
Governor Kate Brown said the suspect was a 20-year-old man but he was not identified further by authorities. CNN reported that four guns belonging to the shooter were recovered from the scene.
The massacre is the latest in a series of mass shootings at US college campuses, movie theaters, military bases and churches in recent years. The killings have fueled demands for more gun control in the United States, where ownership of firearms is protected by the Second Amendment of the US Constitution, and better care for the mentally ill.
Douglas County Sheriff John Hanlin said the gunman was slain in an exchange of gunfire with police officers.
"It's been a terrible day," Hanlin said. The sheriff did not say how many people had been slain or wounded at the college in Roseburg, a city of about 20,000 people some 260 miles (418 km) south of Portland.
"This is a peaceful community," he said. "We have our share of crime like any community but certainly this is a shock to have this level of a crime."
CNN reported that among the wounded was a female who had been shot in the chest. The Oregonian said that at least six patients were critically injured in the shooting, citing an official with Life Flight.
Student Brandy Winter, in a posting on Facebook, said she was in a classroom in Snyder Hall, next door to the room where the shooting began and ran, along with her classmates, when they heard the gunfire.
"I ran to the edge of the campus, down a hill and waited. From talking with a student in the classroom where it happen, almost every person in the room was shot by a man with four guns," Winter said.
"I'm still shaken up ...I can't wrap my mind around this. Please just pray for the families and parents of these students," she said.
"They walked us straight through the crime scene with our hands up," 18-year-old freshman Andi Dinnetz said. "It was more tense outside. In the classroom, everyone was trying to make jokes and keep it from being as serious as it was."
Local media reported that authorities were combing through the campus, which serves more than 13,000 students, 3,000 of them full-time. Fall term began at the college on Monday.
The Douglas County Sheriff's Office said students and faculty members were being bused to the nearby fairgrounds where they could be picked up.
President Barack Obama was briefed on the shooting by Lisa Monaco, his homeland security adviser, a White House official said.
Agents from the Federal Bureau of Investigation and the US Bureau of Alcohol, Tobacco, Firearms and Explosives were on their way to Roseburg.
Recent episodes of gun violence in the United States include the massacre of nine people at a South Carolina church in June and the killing of five US servicemen in Chattanooga, Tennessee.
In 2012, seven students at the small Christian college Oikos University in Oakland, California, were shot dead by a former student, marking the deadliest outburst of violence at US college since April 2007, when a student at Virginia Tech University killed 32 people and wounded 25 others before taking his own life.