Bill Gates' written interview with Shan Juan, China Daily. Gates is the co-founder of Microsoft, co-chair of the Bill & Melinda Gates Foundation.
Q: President Xi Jinping and other global leaders are meeting at the United Nations in New York to discuss the world's development agenda for the next 15 years — what they're calling the Sustainable Development Goals. What is your view and expectation for these new goals?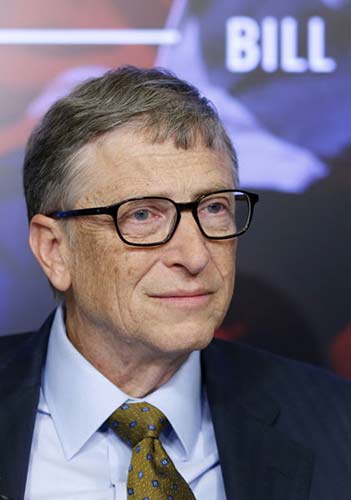 Bill Gates. [Photo/Agencies]
A: It is a great opportunity to take stock of how the world's poorest are doing, and there is a big push to spread the word about the Sustainable Development Goals. Melinda (Gate's wife) and I are in New York to help get the news out. We believe these goals can make big difference, as the world has already done something like this and with great success.
Fifteen years ago, world leaders adopted the Millennium Development Goals. It was one of the best ideas for improving lives that I've ever seen. The MDGs included just eight goals, which helped focus the world's attention on the most urgent problems — extreme poverty, deaths from preventable causes, gender inequality and lack of access to education for children everywhere.
The Sustainable Development Goals are even more ambitious, with twice as many goals. We are supportive of the new framework and the spirit of the global goals. Given our foundation's priorities and experience, we'll continue to focus our investments where we believe they can make the greatest impact — addressing the "unfinished agenda" of maternal, newborn, and child mortality, eliminating gender inequities that limit the contribution of women and helping farming families in the poorest countries increase their productivity.
Q: China made great efforts in achieving the UN's Millennium Development Goals and has seen remarkable progress. What role will China play in implementing the new Sustainable Development Goals? And what influence will China bring to the world?
A: China is a nation with immediate experience dealing with many of the challenges of the developing world. It accounts for much of the world's progress in meeting the Millennium Development Goal on poverty reduction by lifting 600 million out of poverty in just 30 years. And it has led the world over the last 15 years in the annual rate of decline of both maternal and child mortality.
China's public health assistance in West Africa during the Ebola epidemic is a sign of the country's growing willingness to take a leading role in tackling healthcare challenges in developing countries. Its innovation and low-cost manufacturing capacity is producing important technologies for global health, including new TB diagnostics, HPV screening technology, and coolers that can keep vaccines cold and safe, without external refrigeration, for more than a month.
China's increasing engagement in global development policy and financing is also a welcome addition. It played a leading role in the establishment of multilateral financial institutions such as the Asia Infrastructure Investment Bank and the New Development Bank. China's ambitious plan for international cooperation and its increasingly prominent role at APEC, G20, and other global forums is evidence that China is stepping up as a leader in global development.
Q: This year also marks the 15th anniversary of the Bill & Melinda Gates Foundation. What are the most exciting achievements that the foundation has attained in the past 15 years? And looking forward, what's the foundation's investment strategy for the next 15 years?
A: We started our foundation 15 years ago with a belief that we could help reduce poverty and inequity by backing innovative efforts in global health and development.
The progress we've seen so far has reinforced that belief. From 1990 to 2015, child mortality has declined by more than half, maternal mortality has been reduced by nearly as much, and more than 1 billion people have been lifted out of extreme poverty. We think the next 15 years will see more big breakthroughs — new vaccines, hardier crops, and other technologies — that will help people live healthier and more productive lives.
In fact, we're betting on it, quite literally, by investing in partners and projects that we believe will improve the lives of people in poor countries faster in the next 15 years than at any other time in history. It's a big bet, and an ambitious one. But it's achievable if the global community continues to focus on what we know works — improving the health and well-being of women and children, providing small farmers with the tools they need to increase their productivity and advancing new technologies and innovations to create a better, more equitable world.
Q: The foundation has been committed to important issues in health and development in China and around the world in the past decade. What new targets and plans does the foundation have for the future? Is there any new area that the foundation could cooperate with China?
A: Our work in China today has two purposes: to continue supporting China in its efforts to address domestic challenges and to support China as a stronger development partner for the rest of the world.
Our connection to China goes back to 2007, when we established our Beijing Representative Office and began working domestically on HIV prevention, tuberculosis control and tobacco control. It has been great to see the progress China has made on these challenges, as well as in development of the country's philanthropic sector. Challenges do remain, however, and we are committed to continuing to work with our Chinese partners to address them. The high level of resistance to TB drugs in China is a particular concern.
We also are working with public and private sector partners to channel more Chinese innovation and expertise to countries in Africa and South Asia, including agricultural technologies and high-quality, low-cost vaccines.
Q: You mentioned a number of times that you and Melinda have no intention of keeping the Gates Foundation running forever. Do you still plan to shut it down one day? When and why?
A: Before we even established our foundation, Melinda and I talked a lot about how we were going to take the wealth that we're lucky enough to have and give it back in a way that's most impactful to the world. We believe the best approach is to focus the foundation's work in the 21st century. What that means, specifically, is that the foundation will spend all of its resources within 20 years of our deaths. This underscores our belief that it's important to do as much as possible, as soon as possible, to address the challenges we are focused on — eliminating extreme poverty, and improving the health and well-being of people everywhere.
Q: The Chinese government is now promoting "popular entrepreneurship and mass innovation", hoping to drive reform and economic growth. What are your comments about that and what are your recommendations for China's innovators?
A: We are excited to see the Chinese government's emphasis on popular entrepreneurship and mass innovation. Investment in both system and technology innovation has been a key factor in China's remarkable progress over the past several decades in reducing extreme poverty and health inequality.
In our partnerships with Chinese companies over the last eight years, we have seen great examples of product innovation, including small machinery for agriculture and the development of quality, affordable health solutions, including vaccines, HIV and TB diagnostics, and family planning tools.
My recommendation for China's innovators? We would like to see more Chinese innovators use their talents to help solve the most urgent health and development challenges around the world. This doesn't have to mean giving away products. Doing good can also mean doing well. And companies that invest in nascent markets will be the first to reap the benefits as we turn the cycle of poverty into a cycle of prosperity. There is no better example of this than China.