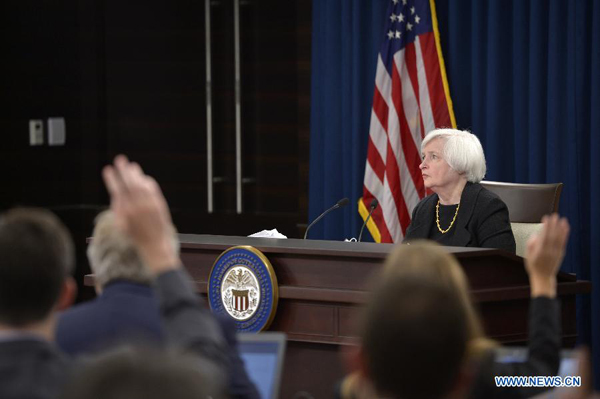 US Federal Reserve Chair Janet Yellen attends a press conference in Washington D.C., the United States, Sept 17, 2015. [Photo/Xinhua]
WASHINGTON - The Federal Reserve on Thursday kept its benchmark interest rate unchanged, according to a statement released by the US central bank after a two-day monetary policy meeting.
It will assess both realized and expected progress toward its objective of maximum employment and 2 percent inflation in its consideration of when to raise the benchmark interest rate, the statement said.
The economic activity is expanding at moderate rate with labor market approaching maximum employment but inflation staying muted, it added.
Fed officials expected the recent global financial market volatility and slower global growth will further put downward pressure on the inflation level, while the US economic outlook remains stable.
According to economic projections released on Thursday, the Fed officials upgraded their forecast for this year's economic growth to 2.1 percent from their June's forecast of 1.9 percent. The forecast for longer run unemployment rate, a level where the Fed officials consider as full employment, is lowered to 4.9 percent from their June forecast of 5 percent.
However, in light of the heightened uncertainties abroad and a slightly softer expected path for inflation, the Fed judged it appropriate to wait for more evidence, including some further improvement in the labor market to bolster its confidence that inflation will rise to 2 percent in the medium term, Fed Chair Janet Yellen said at a press conference after the meeting.
The Fed still leaves door open to a rate hike sometime this year.
Most Fed officials still expect a first rate increase this year, Yellen said, noting that 13 out of the 17 Federal Reserve Board members and Federal Reserve Bank presidents are looking for a move in 2015.
Yellen reiterated that market should pay less attention to the timing of the first interest rate increase and more attention to the expected path of rates. "The stance of monetary policy will likely remain highly accommodative for quite some time after the initial increase in the federal funds rate," she said.