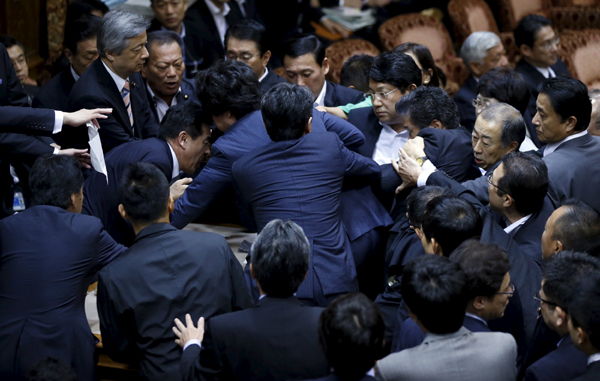 Opposition lawmakers crowd around Masahisa Sato (Center L), deputation chairman of the upper house special committee on security, at an upper house special committee session on security-related legislation at the parliament in Tokyo, Japan, September 17, 2015. [Photo/Agencies]
TOKYO - Japan's opposition lawmakers on Thursday succeeded in delaying a vote on Prime Minister Shinzo Abe's plans to see controversial security legislation enacted which will allow the scope of the nation's Self Defense-Forces to be expanded globally in the biggest post-war shift seen in 70 years.
Chaotic scenes erupted in an upper house committee on Thursday morning as Japan's ruling Liberal Democratic Party-led coalition sough to hold a final debate on the security legislation ahead of a vote to enact the bills into law later in the day or on Friday.
Having failed to hold the final debate as initially planned Wednesday evening, due to opposition party lawmakers barricading themselves around the upper house chamber and physically preventing what was supposed to be a Q&A session from taking place, in scenes reminiscent of those in the lower house ahead of Abe ramming the bills through in July without sufficient debate with opposition parties or explanation of the bills to the public, tensions gave way to chaos as the standoff between parties continued Thursday morning.
Following the final debate being adjourned in the early hours of the morning due to the Democratic Party of Japan (DPJ)-led lawmakers' outroar and last ditch attempts to see the bills scrapped or significantly delay their enactment, as the LDP failed to negotiate any common ground to proceed with the opposition camp with the contentious vote, Yoshitada Konoike, who chairs the upper house panel on the security legislation, was mobbed in the committee meeting by opposition lawmakers on Thursday.
While the LDP-led ruling bloc still plans to have the bills enacted by the end of the week, despite the legislation being condemned by lawyers, constitutional experts and scholars as thwarting the nation's pacifist Constitution and thus violating Japan's Supreme Law, which decrees that Japan must not maintain a combative military force or use force as a means to settle international disputes, sources close to the matter said Thursday morning that some LDP members in the upper house are now nervous about their commitment to enact the bills this week.
Among other DPJ heavyweights, Yukio Edano, secretary general of the DPJ said Wednesday that there is absolutely no doubt that history will prove that it is a monumental error for Abe and the ruling bloc to enact bills by force or by exploiting their voting powers in both in chamber of parliament that run contrary to the nation's constitution. He added that parties including the DPJ that stood opposed to the bills would do everything in their power to block the bills.