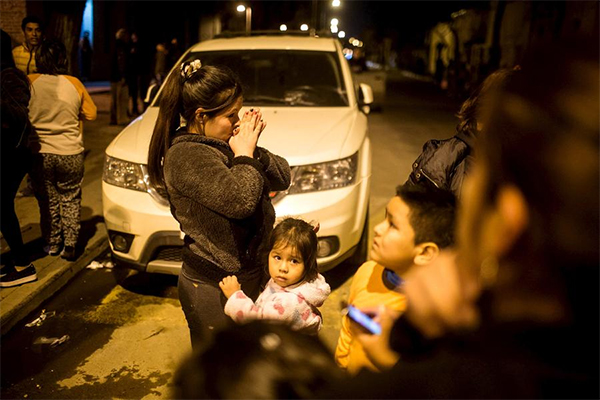 Residents wait on a street outside their houses after an earthquake hit Chile's central zone in Santiago, Chile, Sept 16, 2015. [Photo/Agencies]
A magnitude 8.3 earthquake struck off the coast of Chile on Wednesday, killing at least five people and slamming powerful waves into coastal towns.

Map locates earthquake that occurred near Santiago Chile on Wednesday. [Photo/Agencies]
More than a million people were forced from their homes as the government ordered the evacuation of coastal areas, anxious to avoid a repeat of a quake disaster in 2010 when authorities were slow to warn of a tsunami that killed hundreds.
"It's been awful. We ran out of the house with our grandchildren and now we are on a hill hoping it will be over soon," said Maria Angelica Leiva from the coastal town of Navidad.
"It is all very dark, and we just hope the sea hasn't reached our house," she said.
The quake and heavy waves caused flooding in coastal towns, damaged buildings and knocked out power in the worst hit areas of central Chile and shook buildings in the capital city of Santiago about 280 km (175 miles) to the south.
President Michelle Bachelet said she planned to travel to the areas worst affected by the quake, the biggest to hit the world's top copper producer since 2010.
"Once again we're having to deal with another harsh blow from nature," Bachelet said in a televised statement.
Operations were suspended at two major copper mines operated by Codelco and Antofagasta PLC, which generate an annual capacity of more than 600,000 tonnes.
Copper prices on the London Metal Exchange rose to two-month highs in early Asian trading as worries about supply disruptions offset lingering concerns about demand from China amid copper's longest rout in years.
The quake was felt as far away as Buenos Aires in Argentina.
Tsunami advisories were issued for parts of South America, Hawaii, California and French Polynesia, although waves were generally expected to be small.
On the remote Easter Island in the Pacific Ocean, islanders were evacuated to a church in the only town of Hanga Roa, and higher-than-normal water levels were reported shortly after midnight, according to posts on social media.
As far away as New Zealand, authorities warned of "unusually strong currents" and urged residents in eastern coastal areas to stay out of the water and off beaches.