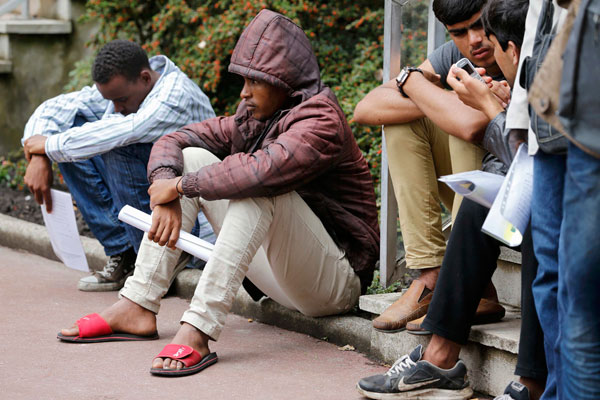 Migrants who seek asylum hold documents as they gather outside the Under Prefecture administration building in Calais, France, August 20, 2015.[Photo/Agencies]
PARIS - Interior ministers of France and Britain on Thursday agreed to toughen security at the French port city of Calais to stem flood of illegal migrants trying to cross to Britain.
During a visit to the northern French town where about 3,000 migrants are camping out, Bernard Cazeneuve and his British counterpart Theresa May announced the creation of a joint crisis center "to find and dismantle the organized criminals who try to smuggle migrants to northern France and across the Channel Tunnel".
Under the accord, France and Britain also pledged to deploy more police officers at the entrance and around the Channel Tunnel to abort eventual attempts to get into Britain.
Meanwhile, Britain is to devote 10 million euros (12 million U. S. dollars) over two years to finance the setting up of further fences, additional cameras, and other equipment to ensure the security of the zone.
Both sides pledged to boost humanitarian aid by offering houses and support to the most vulnerable migrants, mainly women and children, to avoid their being exploited.
"French and British governments have been working for months to address the issue of migrants in Calais and Coquelles. We have already taken some measures that have begun to improve the situation, but the work must continue," said May.
Thousands of migrants from Africa and the Middle East have fled war and poverty in their native countries with the hopes of seeking a better life in Europe.
They risk their lives by trying to board lorries and trains heading to Britain. Since early June, nine migrants died while trying to cross into English territory.